Caring for Your First Real Christmas Tree
Fresh Christmas trees require a little more care than fake ones, but their beauty and lowered environmental impact are worth it!
Choosing the Best Spot
Just as with cut flowers in a vase, the trick to keeping real trees looking good is to keep them from drying out. Trees should be kept away from major sources of heat (fireplaces, heaters, heat vents, direct sunlight) as these will dry out your tree faster. Cooler room temperatures will also help to slow down moisture loss.
Measuring the Spot
Avoid a Clark Griswold moment – know the size of your space and be sure to choose a tree that will fit. When viewing trees outside against a big open space, they often seem smaller. Some trees are narrow, while others can be quite wide, so consider both height and width when measuring.
Choosing the Best Tree Stand
Think of your tree stand as a vase for flowers. It needs to hold the tree upright and hold ample amounts of water. Here are a few factors to consider:
Size – Trees can vary in size from 3' tall to over 12' tall, so choose a tree stand that is appropriate for the size of tree you intend to put in it. Shaving off the sides of the trunk to fit in a stand that is too small will decrease the tree's ability to take up water.
Stability – Taller trees need more stability and thus stronger legs that extend out further.
Water Capacity – Be sure the stand can hold enough water, at least 1 quart of water for every inch of trunk diameter. The water will need to be checked daily (twice daily the first few days) so choose a stand that is accessible.
Pro Tip: Slip a biodegradable plastic tree bag over the trunk before attaching the tree stand. Spread the bag out under the tree skirt. When the holidays are done, you can pull the bag up over the tree and easily carry it outside without scattering needles throughout the house.
Planning for Decorations
Consider your style before choosing a tree. Some varieties of trees are dense and bushy, so only the outer tips of the branches can be decorated. Other varieties have a more open form, allowing the inner branches to be decorated as well. If you plan to put heavy ornaments on your tree, be sure to choose a tree variety known for having strong branches. Lights that produce heat can also dry out a tree faster, so opt for cooler lights whenever possible.
Not sure which variety is best for you? Check out our blog post on choosing a tree variety.
Recutting the Trunk
To help your tree take up water, all trees should be given a fresh cut (½" removed from the trunk)  and then put in water as quickly as possible (the quicker the better, but some species can go as long as 6 to 8 hours and still take up water). Once the tree is given a fresh cut, it is important to not bruise the cut or get the cut dirty as this will plug the cells and prevent the uptake of water.
Here at Rick's we will give each tree a fresh cut before the tree leaves the lot. We can even put your tree stand on your tree for you so that when you get home, all you need to do is add water!
If you will not be able to set up your tree right away, store it in a cool location out of the wind in a bucket that is kept full of water.
Caring for Your Tree
Trees can take up a surprising amount of water – sometimes more than a gallon a day in the first few days. It is important to keep filling the tree stand with water. If the tree runs out of water, the cut will dry out, resin will block the pores, and the tree will lose the ability to take up water. Check the water twice a day the first week, and then daily after that.
Safety
Choose lights that are cool to the touch (modern LED lighting is an excellent choice). Inspect lights prior to putting them on the tree and replace them if they are worn out. Check the label on your set of lights to find out how many strands can be connected and do not overload electrical circuits. Keep the tree away from heat sources including candles and fireplaces. Turn off the Christmas tree lights every night before bed. When the tree dries out, it is time to dispose of it.
Tree Disposal
Christmas trees can be recycled at facilities that process them into mulch. More information on the mulching program in Colorado Springs can be found online at TreeCycleCOS.org
Resources
https://www.extension.purdue.edu/extmedia/fnr/fnr-423-w.pdf
https://realchristmastrees.org/all-about-trees/care-tips/
https://www.christmastreeassociation.org/fire-safety-tips-for-your-christmas-tree/
Choosing a Christmas Tree Variety
Questions to Consider
Do you want a fuller tree (one with dense branches) or a more open tree (one with more spacious branches)?
If you like the look of a bushy tree, choose a fuller type. If you like to decorate the interior of the tree, use larger ornaments, or be able to see through the tree, then choose a more open tree type.
Do you tend to decorate with heavy ornaments?
If you use heavy ornaments, be sure to choose a tree variety with strong branches.
Does scent matter to you?
Some varieties are very fragrant while others only have a light scent.
How long do you plan to display your tree for?
If you plan to display your tree for several weeks, be sure you choose a variety with good needle retention. Ensuring that trees are placed in cooler locations, far from heating vents (which dry trees out) will also help with needle retention. Checking on the water levels of the tree daily and watering as needed is also critical. If the tree runs out of water, the cut will dry out, resin will block the pores, and the tree will lose the ability to take up water. Additional products such as tree preservatives and Wilt Pruf or Wilt Stop can help extend the life of the tree.
How much do you want to spend?
At Rick's, we only carry premium quality Christmas trees. Our tree prices are based on two main factors – size and the cost of producing that tree variety. Larger trees are more expensive as are varieties of trees that are slower growing (and therefore take longer to produce).
Overall Attributes
There are three main types of evergreen trees sold as Christmas trees – firs, spruce, and pines.
Firs
Soft needles, fragrant, strong branches
Spruces
Spiky needles (good for repelling cats), very strong branches, fuller/wider
Pines
Long soft needles, unique elegant shape, less dense (more open) branches
Christmas Tree Accolades
Longest Lasting
Fraser Fir & White Fir
Honorable Mentions: Scotch Pine, Balsam fir, White Pine
Best at Repelling Pets
Blue Spruce
Most Traditional Christmas Tree Look
Noble Fir
Honorable Mention: Scotch Pine
Strongest Ornament Holder
Blue Spruce
Honorable Mentions: Balsam Fir, Fraser Fir, Noble Fir
Longest Needles
White Pine & Scotch Pine
Strongest Scent
Balsam Fir (strong) & Fraser Fir (pleasant)
Christmas Tree Variety Details
Balsam Fir
Balsam firs have fragrant, dark green foliage and are known for their strong branches and soft needles. Balsam firs have excellent needle retention and retain their pleasing scent throughout the holiday season.

Foliage Color: Dark Green
Needle Type: Soft
Needle Retention: Excellent
Branches: Strong and point straight out from the trunk
Overall Shape: Not too narrow, not to wide, right in the middle
Scent: Fragrant "Christmas tree" scent, retains scent throughout the holiday season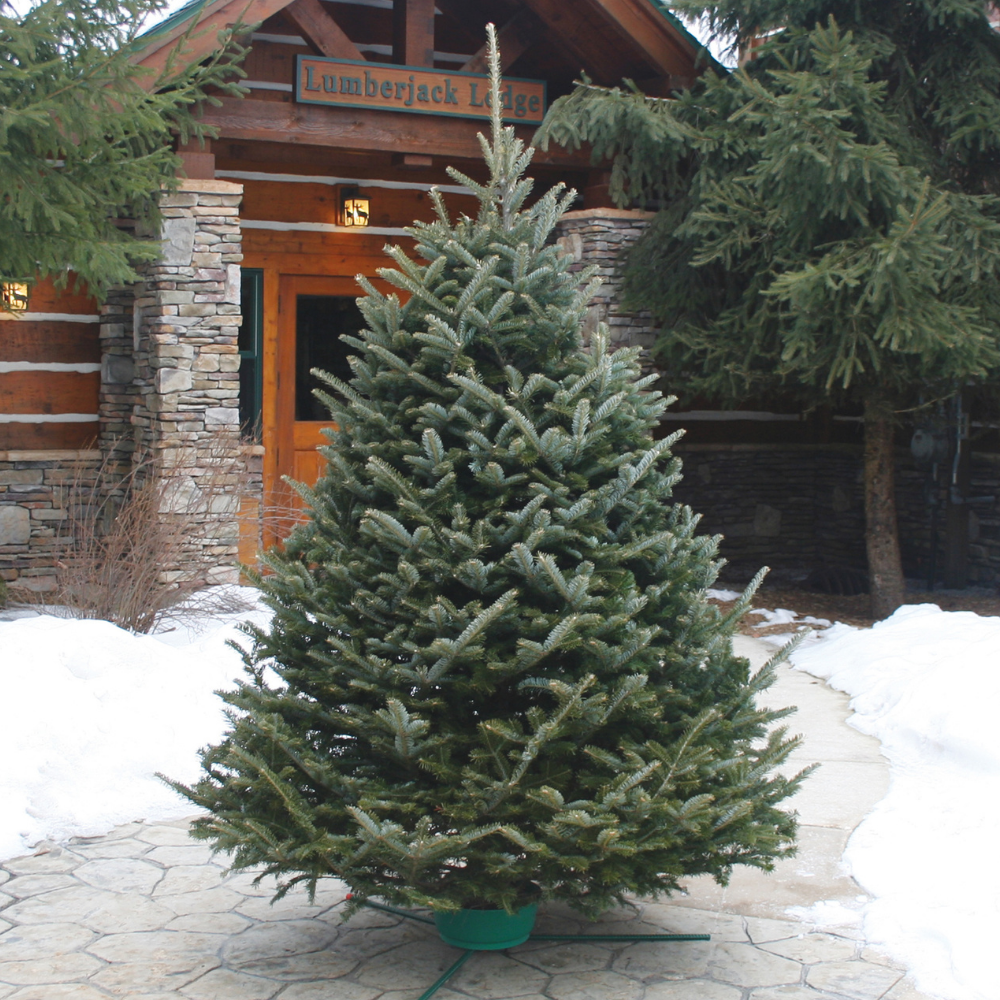 Fraser Fir
Fraser firs have dark green needles with a frosty glow and pleasing fragrance. They are beautifully shaped with strong, slightly upturned branches and excellent needle retention. Fraser firs are considered one of the most desirable Christmas trees in North America.

Foliage Color: Dark Green, frosty underlying glow
Needle Type: Soft and upright
Needle Retention: Excellent, very long lasting
Branches: Strong and point slightly upward, can be dense
Overall Shape: Fuller than a Balsam, but not as full as a Noble or Nordman
Scent: Pleasant scent, retains scent throughout the holiday season

Noble Fir
Known as "America's Christmas tree," the Noble fir is one of the loveliest Christmas trees we carry. These slow growers have beautiful dark green foliage with bushy branches that are strong and straight.

Foliage Color: Dark Green
Needle Type: Soft
Needle Retention: Good
Branches: Strong, point straight out from the trunk, good spacing between branches
Overall Shape: Very full
Scent: Light fragrance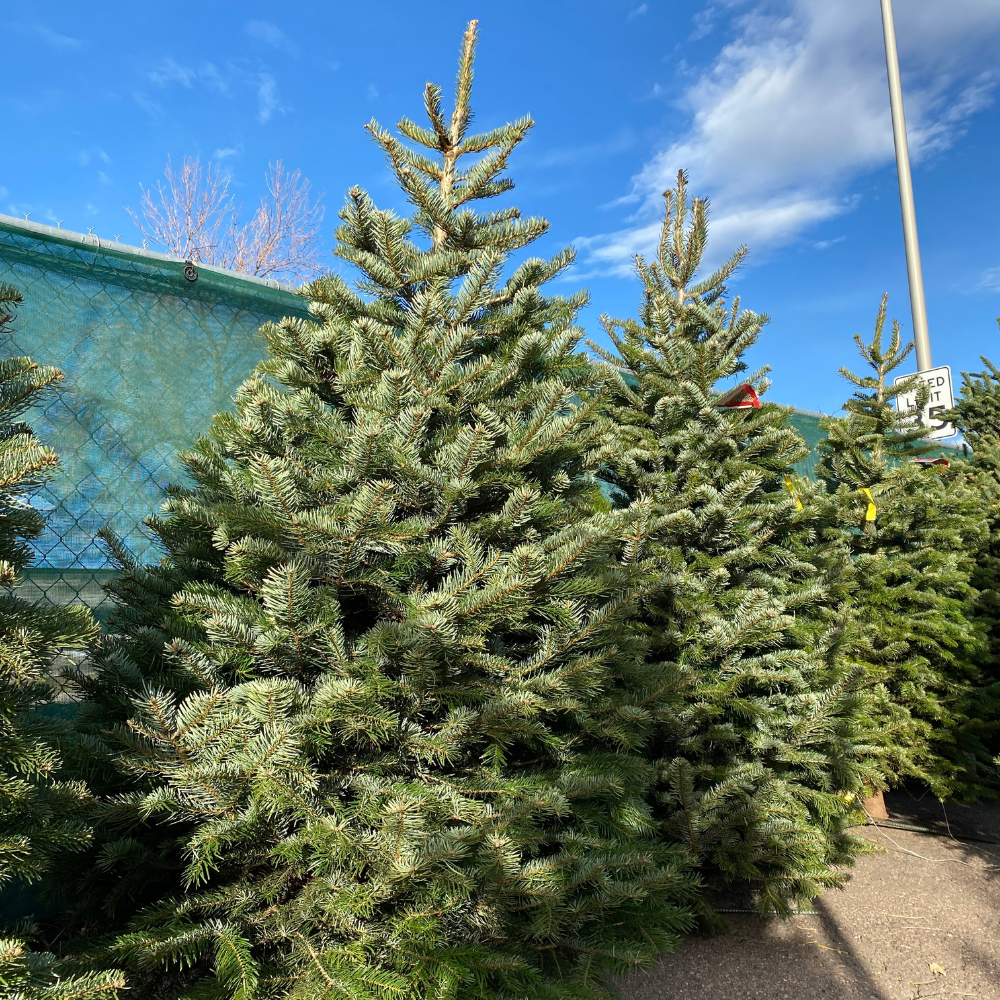 Nordman Fir
The Nordman fir is a very full, wide tree and has the softest needles of any tree we carry. It has a low fragrance level and beautiful symmetry.

Foliage Color: Dark Green, frosty underlying glow
Needle Type: Softest of them all
Needle Retention: Good
Branches: Good strength for average ornaments
Overall Shape: Very full, heavy trees, nice cone shape
Scent: Light fragrance
White Fir
Our white firs are sourced from forest thinning efforts in New Mexico, making them an environmentally conscious choice. Because they are not farmed, these trees have a more rustic, natural shape with beautiful soft, light-green foliage.

Foliage Color: Light green
Needle Type: Long and soft
Needle Retention: Excellent
Branches: Strong, open spacing
Overall Shape: These trees are harvested, not farmed, and have a more natural shape
Scent: Fragrant
Colorado Blue Spruce
Blue spruces are known for their striking foliage that can be bluish green to silvery blue. A slow grower, the blue spruce has stiff, strong branches and a desirable pyramidal shape. The needles are spiky and may repel cats who are prone to tree climbing.

Foliage Color: Blue-green to powdery silver
Needle Type: Spiky, may repel pets
Needle Retention: Needles may drop in a warm environment
Branches: Stiff and strong
Overall Shape: Very full and wide
Scent: Stronger scent
Scotch Pine
Scotch pines are a traditional favorite due to their economical price and incomparable needle retention. The branches are strong with bright green, medium length needles that will not drop even if the tree becomes dry, making it an excellent choice for warmer homes.

Foliage Color: Dark green
Needles: Stiff, one inch long
Needle Retention: Excellent (incomparable!) Needles will stay on even when dry
Branches: Stiff
Overall Shape: Open appearance with more room for ornaments
Scent: Fragrant, maintains scent throughout the season
Notes: Easier to grow, very economical
White Pine
White pine Christmas trees have long, soft, bluish-green needles and excellent needle retention. This tree is known for its elegant, symmetrical shape.

Foliage Color: Bluish-green
Needles: Long and soft, very elegant
Needle Retention: Excellent
Branches: Wispy branches with open space between them, does best with lighter ornaments
Overall Shape: Open appearance with more room for ornaments
Scent: Very little aroma
Resources
https://web.extension.illinois.edu/trees/types.cfm
https://www.canr.msu.edu/news/choosing_the_right_christmas_tree
Forcing Paperwhite Narcissus Bulbs
Flowering bulbs can be forced to bloom indoors, creating a beautiful display of color and fragrance even on the coldest days of winter. Some bulbs require a period of cold treatment to bloom, which can be a little tricky. If you're new to forcing bulbs, we recommend starting with Paperwhite Narcissus. Paperwhite bulbs do not require a cold treatment and are super easy to bloom in water.
Planting – A Simple Hydroponic Method
Find a decorative bowl or dish that is 3 to 4 inches deep and holds water
Fill the dish with about 2 to 3 inches of clean decorative rock, pebbles, pea gravel, perlite, or other very porous substrate leaving about 1 inch of head space at the top of the dish
Add water until it is just slightly below the surface of the rock
Set the bulbs on top of the rock with the basal plate (root end) facing down
Use a little more gravel to cover the bottom quarter of the bulb
Maintaining
Keep the water level just at the level of the basal plate (too much water will cause the bulb to rot)
Bulbs typically do best if they are kept in a cooler location (50 to 60 degrees F) in low light for the first 2 to 3 weeks
Once the bulbs are rooted and shoots appear, bring into direct sunlight and warmer temperatures
When the flower buds begin to show their color, move the plants into indirect sunlight to prolong the flowers
Pro Tips
Plant new pots every two weeks starting in mid-October to have blooms from Thanksgiving into March.
Keep bulbs out of reach of pets and children as these plants are toxic if ingested.
Forced paperwhites will not likely rebloom, so it is best to toss out spent bulbs.
References:
https://hgic.clemson.edu/factsheet/forcing-bulbs-indoors/
https://extension.illinois.edu/blogs/hort-home-landscape/2016-11-30-forcing-paperwhites-holiday-decor
Growing Garlic in the Pikes Peak Region
Garlic is a crop that is fun to grow and does best when planted in the fall. There are many interesting varieties, so take your time choosing a variety that suits your taste and cooking preferences.
When to Plant Garlic
Garlic grows best in the Pikes Peak Region when planted in the fall – typically in late October – when the soil temperatures are too cool to cause the garlic to sprout but still warm enough to allow the bulb to establish some roots before going dormant for the winter.
Choosing a Garlic Variety to Plant
There are two main subspecies of garlic: hardneck and softneck.
Hardneck varieties are most similar to wild garlic and also produce a delicious flowering stalk, known as a scape, that can be eaten raw or cooked. Hardneck varieties tend to be more flavorful, have larger cloves, and are easier to peel. Hardneck varieties may be purple, purple striped or white. Each cultivar has a distinctive flavor ranging from mild to very hot.
Softneck varieties do not produce a flowering stalk, but they can be braided. These varieties typically produce bulbs with 10 to 40 smaller cloves. Softnecks have a longer shelf life than the hardneck varieties, making them popular with grocery stores.
Soil Preparation
Garlic is best grown in a well-drained soil as it won't tolerate wet feet. Garlic thrives in soil that is high in organic matter, so a raised bed is an ideal location for growing it. Be sure to amend the soil with well-rotted manure or preferably a quality compost. If possible, spread 1 to 2 inches of compost over the entire planting area and work it into the first few inches of soil. As with most garden crops, garlic grows best when the soil pH is between 6 and 7. If you amend the soil with manure or compost before planting, no further fertilizer is needed until spring. Garlic should not be planted in the same spot year to year; the crop should be rotated.
How to Plant, Harvest & Store Garlic
Garlic cloves are best planted between November and April, although you will generally get a bigger and better crop if you plant in the autumn. If planted between October 1 and November 15, the clove will have a chance to develop some roots before it goes dormant for the winter. Here at Rick's, we think the ideal time to plant is at the end of October.
Separate cloves from the bulb and plant root side down (pointed side up) about 2-4 inches deep, 6-8 inches apart in the row and 12-18 inches between rows. A bulb planter used for tulips and daffodils is an excellent tool to get several cloves planted quickly.
Mulching 6-12 inches of straw or mulch in mid to late November, when the ground begins to freeze, will ensure the garlic will survive the cold temperatures.
In early spring as the ground thaws, look for the green tips beginning to emerge underneath the you mulch.
Fertilize in spring with a complete fertilizer such as 10-10-10 (3 lb per 100 sq. feet), or an organic complete fertilizer at roughly twice the rate, as usually they contain roughly half the nitrogen as chemical fertilizers.
As half of the leaves begin to die-back in July, harvest the garlic by gently pulling on the stalk while prying beneath the bulb with a trowel. The clove you planted last fall will have turned into a multi-cloved bulb. Gently shake off the dirt but do not wash before storage. Don't wait until all the leaves have died-back or your bulbs will not store well.
Cure the garlic by hanging in a warm, dry, well ventilated place.
Give the bulbs another shake after two weeks of curing to remove more soil, cut off the stalks of hardneck varieties and store them in a cool, dry place. For softneck varieties, you can leave the stalks attached if you wish to braid and hang them for ease of use and aesthetics in the kitchen – but you may also cut off the stalks and store them with the hardneck varieties.
Save some of your biggest bulbs for planting next fall.
Varieties Available at Rick's for Fall 2020 Planting
All of our seed garlic is locally grown in Avondale, CO and is certified organic.
Metechi garlic is a hardneck with a robust flavor and sharp bite. One of the hottest garlics raw, cooking tones down heat while keeping tons of flavor. One of the best garlics for roasting. Easy to peel, long-storing.
Peñasco Blue garlic is an heirloom rocambole hardneck variety, mild but rich flavored. This garlic has been grown for generations in the higher elevations of Taos County, NM. Ideal for eating raw, pressed into salads or pestos. Skins are deep purple to deep brown, and external skins usually have quite a bit of pink streaking. Mid-season harvest.
Pueblo Early garlic is an artichoke variety softneck derived from California Early. Medium tame flavor, very large heads, good all-purpose garlic. Very adaptable. Stores until spring under cool, dry storage conditions.
Inchelium Red garlic is a softneck artichoke variety, once the softneck variety winner for best flavor. Mild buttery flavor at harvest, flavor increases with storage to mild heat. Properly cured, may store up to 10 months..
Silverwhite garlic is a softneck variety, typically the last to mature each season and stores the longest. Richly garlic flavor. High yields of large, mild-flavored bulbs. Popular softneck in grocery stores and for braiding.