Rick's 2023 Winter Reading List
By Katherine Placzek
Winter is the perfect time to curl up with a book. Our staff has accumulated our favorite plant reads so you can get a stack of books from the library or your favorite local bookstore. All you need is a blanket and to start the tea kettle!
---
Plan a Colorful Garden for our Rugged Terrain:
Pretty Tough Plants:135 Resilient, Water-Smart Choices for a Beautiful Garden
by the Experts at Plant Select
Plant Select, the country's leading brand of plants designed to thrive in high plains and intermountain regions, wrote the book on hardy high desert gardens- literally! This book will help you make a list of plants to seek out when it warms up. With amazing photos, each plant is described with specifics that are important for garden design, such as growing zones and light requirements. The selected plants include perennials and annuals, groundcovers, grasses, shrubs, and trees. Drool over each page, and complete your winter garden dreaming with this essential book!
---
Relish Edible Garden Designs:
Groundbreaking Food Gardens: 73 Plans That Will Change the Way You Grow Your Garden
by Niki Jabbour
Based on actual gardens designed by celebrated gardeners and renowned landscapers, each of these 73 gardens offers unique solutions for your own garden. The garden layouts are illustrated, and list the edible plants included. You will find a pepper garden with over 24 pepper varieties, a garden that is in harmony with a chicken coop as its central feature, a cocktail garden, a balcony garden, and so many more niche ideas. Regardless of your space or experience, you will find something that will be new and exciting to you! Explore new species of eggplants, climbing tomatoes, edible flowers, and a plethora of ways to showcase the bounty in your vegetable garden.
---
Live an Insect's Perspective:
The Bees
by Laline Paull
Throughout this novel, you will fall in love with the main character, Flora-717, a female bee in a honeybee colony. While scientific in many ways, it is a suspenseful and fantastical story in its own right. Experience predatory insects, pesticides, birds, weather, seasonal changes, human interactions, and the hive mentality from the perspective of a worker bee. The Bees will change how you view the life of a honeybee!
---
Drool Over Houseplants:
Plantopedia: The Definitive Guide to Houseplants
by Lauren Camilleri & Sophia Kaplan
This is a wonderful introductory guide for the houseplant enthusiast! 130 plants including foliage plants, succulents, and cacti are profiled. While as educational as a textbook, this book also doubles as a coffee table book due to its incredible images! You will be able to keep your houseplants happy and vibrant after reading this informative book. Plantopedia is a great gift for any houseplant lover!
---
For the Fledgling Plantswoman:
The Earth in Her Hands: 75 Extraordinary Women Working in the World of Plants
by Jennifer Jewell
If you are inspired by seeing other individuals who are molding the future of the plant world, check out this beautiful book. 75 women are interviewed on their backstory of how they debuted in the plant world. Each individual is given a multi-page spread, and vivid pictures are included. You will meet nursery owners, photographers, vegetable farmers, flower farmers, activists, researchers, florists, plant breeders, seed collectors, and a myriad of other professionals.
---
A Mystery that Involves a Plant Poisoning:
A Botanist's Guide to Parties and Poisons
by Kate Khavari
This lighthearted mystery introduces you to the world of Saffron Everleigh, who has just become a research assistant at the University College of London during the early 1920s. Plant lovers will enjoy the scenes located in various gardens, arboretums, and greenhouses. After a poisoning occurs, our fearless heroine is caught in the middle since her mentor is the main suspect. She undertakes the task of clearing her mentor's name with her dashing sidekick, Alexander Ashton. This is the first book of a series, so feel free to get emotionally attached to the characters.
---
Calling All Beginning Vegetable Gardeners: 
The Kitchen Garden: A Month by Month Guide to Growing Your Own Fruits and Vegetables
by Alan Buckingham
This book is a great foundation for beginner and intermediate vegetable gardeners. The author provides you with detailed crop planners, indicating when to sow and how to care for more than 60 veggies, herbs, and fruits. Every month is broken into tasks. Discussion on growing zones occurs, so you can acclimate to the monthly tasks based on your region. Basic composting, Hugelkultur, and crop rotation processes are also covered. The author shares tips on maximizing your garden plot if sloped or uneven terrain is a concern, which is common in this area. Buckingham especially trains you in gardener's foresight strategies. Get your feet wet and your hands dirty with this book!
---
A Gardener's Contemplation:
Second Nature: A Gardener's Education
by Michael Pollan
This was one of Michael Pollan's first published books. If you know him as a food writer or culture shifter, reacquaint yourself with him as a gardener. His amusing stories have a retro feel due to their publishing year but are still relevant to how societal norms influence our lawns, yards, and gardens. He talks about the dichotomy between the wilderness and a garden. The book makes you consider the role that your yard plays in this conversation.
---
How to Start a Flower Farm:
Floret Farm's Cut Flower Garden: Grow, Harvest and Arrange Stunning Seasonal Blooms
by Erin Benzakein with Julie Chai
In Erin Benzakein's debut book, you will be absorbed by the gorgeous photographs of colorful flowers, and her thoughtful design. Benzakein's generous spirit shines through, as she guides you from a beginner's understanding into the intricacies of large-scale cut flower farming. While reading the book you will learn about helpful tools of the trade, planting/care staples, the harvesting processes, and the art of flower arrangements. Soon enough, you will be dreaming of dahlias, zinnias, poppies, daffodils, anemones, ranunculus, and more!
---
A Throwback:
Silent Spring
by Rachel Carson
Initially released in 1962, this book helped the public understand the impact of pesticides. Rachel Carson, an American biologist, writer, and conservationist, researched the impacts of post-World War II pesticides, including DDT on songbird populations. Through the publication of this book, her audience was able to push for a nationwide ban on DDT. If you are able to pick up a physical copy, the illustrations are exquisite! The images were drawn by Lois and Louis Darling. Naturalist Sir David Attenborough expressed Silent Spring as a book that has changed the scientific world- a classic read for any gardener! 
---
A Reason to Plant Natives:
Nature's Best Hope: A New Approach to Conservation that Starts in Your Yard
by Douglas W. Tallamy
Written by Dr. Douglas Tallamy, a professor in the Department of Entomology and Wildlife Ecology at the University of Delaware, this book will convince you to plant native plants in your yard. Tallamy explains why various insect larvae are keystone species, especially for bird populations. The book details how the landscape is changed when invasive or non-native plants are incorporated, and how natural food sources for wildlife are erased. This can be changed easily by planting native plants that provide dense nutrition as well as protective habitat corridors within the urban setting. Native plant guides and resources are provided throughout the book. Overall, a convincing and empowering read.
---
Learn to Garden on a Shoestring:
The Dirt Cheap Green Thumb: 400 Thrifty Tips for Saving Money, Time, and Resources as You Garden
by Rhonda Massingham Hart
This little book is chock full of clever ways to garden! The author is frank on how to save money while building a beautiful and productive garden. Enjoy humor and advice on the best ways to stretch your dollar, from starting seeds to preserving produce. The author explores all gardening, including edible and ornamental. Even seasoned gardeners will find resourceful tips in this helpful guidebook.
---
Summer 2024 tomato Variety List
In our newsletter we mentioned Rick's would soon release our 2024 tomato list and we are excited to reveal it to you now! Inspired by Good Earth, we want to grow strong, and flavorful tomatoes of numerous varieties for next summer. Tomato seeds and plugs will be organic, while any shipped in from growers will be grown sustainably. The list below is what we will feature this summer if all goes according to plan!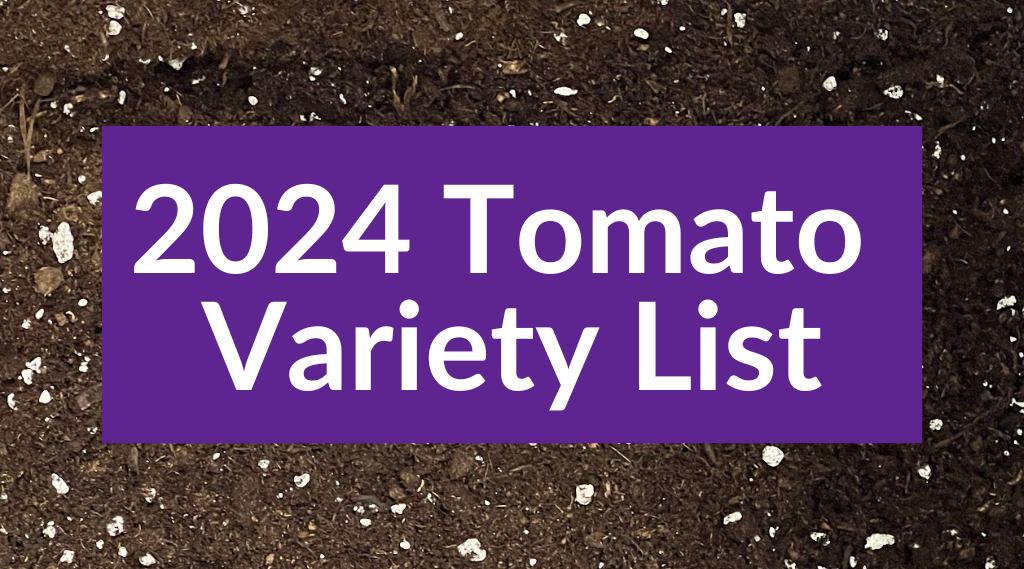 In preparation for our first deep freeze coming this Sunday, Rick's Garden Center would like to remind our fabulous customers to take some steps beforehand to help your plant friends and tools out.
Water in outdoor trees, shrubs and perennials and cover root balls with mulch.  Do not mulch up to the trunk.  Moist soil conducts earth heat better than dry soil.  The mulch will help keep in the heat and protect the sensitive root ball.
Rose bushes, mulch up to the graft union at the base of the rose trunk. You can use a rose collar or just pile up mulch up to and above the graft union. The graft union will look like a bulging area on the main trunk just above the soil line.
Bring in any tropical plants, cacti or succulents that are not at least a zone 5 inside.
Check and move any plants that are blown on by heat vents. This will dry out the foliage in no time!
Outdoor trees, shrubs and perennials planted in pots should be insulated with burlap bags or mulch and placed against a south or west wall of your home. Avoid watering these before the freeze.
Water in newly established lawns and grass.
Go ahead and plant those mums you bought in the ground.. They may come back next year!
Disconnect and drain all hoses and drips lines from spigots
Cover newly planted bulbs with leaf, needle or straw mulch.
Blow out that sprinkler system!
After the freeze, you do not have to pull up all of the dead material, so that pollinators and other insects have a place to overwinter.
Rick's Garden Center Bare Root Fruit Trees 2023
Great news for backyard orchardists- our bare root fruit trees just got confirmed for Spring 2023. This will be our second year offering bare root trees in the nursery. For those not in the know, bare root trees are sold, as the name suggests, without any soil on the roots. There are numerous benefits of planting bare root, but time is of the essence as far as purchasing, handling, and planting are concerned. If you missed our blog post from last year, check [here] for a great rundown on what bare root trees are, how to handle and plant them, and a lot of other great information. Here's a brief rundown of some important information you can find there:
Why Bare Root?
Improved tree health- no circling or girdling roots, easier transplant
Reduced weight- less gas used, less expensive shipping, easier handling/planting
Cost effective- roughly ½ the price of similar-sized container trees. All varieties will be $48.99, tax free (that's right- you pay with a $50 bill, we'll give you back a dollar and a penny in change.)
When are they available?
This depends largely on weather- trees should be arriving in early April. All bare root trees are sold on a first come, first served basis. Sales end when trees break dormancy–usually in late April–which necessitates their immediate planting. If you'd like to be notified when they arrive, please email info@ricksgarden or call the store at (719) 632-8491.
We've made some tweaks to our available varieties, and I'd like to take the time and share them with you. We have some varieties I'm confident you won't find anywhere else.
Ambrosia Apple
This variety arose from a chance seedling discovered in British Columbia. This is one of the newest varieties available at Rick's nursery, and has a sweet, juicy, aromatic fruit. This apple boasts beautiful color, long storage time, and once cut is slow to brown due to its low acidity.
Auvil Early Fuji Apple
This sport has all of the things you love about Fuji apples, and is ready for harvest six weeks earlier, making this apple a great option to spread out your harvest time. Discovered by Grady Auvil, a renowned Washington orchardist. Complex in flavor with a dense, crisp flesh.
Gale Gala Apple
This exclusive, improved Gala strain is noted for its beautiful, deep red color. Available only through VanWell nursery, our distinguished wholesale grower. Similar in taste and texture to Royal Gala making it good for both fresh eating and preserving, and perfect for desserts.
Royal Red Honeycrisp Apple
Everyone's favorite apple now comes with better storage time and improved color. The perfectly snappy, crisp texture and sweet, slightly tart profile explain this apple's overwhelming popularity. A versatile, hardy, and in-demand apple.
Red King Red Flesh Apple
New this year to Rick's nursery, this apple has the unique feature of dark red flesh- even the juice is pink! Brilliant red skin, beautiful pink flowers, and an irresistible crunch are other qualities of note. This tree is triploid, which means that its pollen is sterile and will not pollinate other apples. For those interested in only the most unique apples, this variety is sure to please.
Red McIntosh Apple
It's hard to think of a more classic apple than the McIntosh, whose popularity has been holding steady for more than 200 years. Perhaps also the poster child of the "all-purpose" apple, this variety has impeccable range as fresh, baked, preserves, cider, and many other applications. A supremely hardy, reliable producer.
Yellow Newtown Apple
The oldest heritage apple available through our bare root program, the Yellow Newtown (also called Newtown Pippin) originated in the late 17th century. Regarded as a winter apple due to its impeccable storage time, its flavor actually improves after harvest. As Thomas Jefferson said while visiting Paris, "they have no apples here to compare with our Newtown Pippin."
Benton Cherry
This sweet cherry does it all: it is self-fertile (does not require a pollinator), late-blooming (to avoid early Spring frosts), semi-freestone (easy to pit), and has a gorgeous carmine color. A reliable producer with large fruit, its taste is superbly sweet with just enough acidity to make it perfect for fresh eating and also baking and preserves.
Early Italian Plum
This self-fertile plum is rich in flavor and ripens sooner than regular Italian plums, a boon to those of us with a short growing season. Another versatile "all-purpose" variety that is good right off the tree as well as in the kitchen. Tree features smaller stature and fragrant blooms.
Thanks for reading! We hope to see you in the nursery this Spring. We open our doors mid-April, but we have staff on board all year long to aid you in your gardening quest. Happy planting!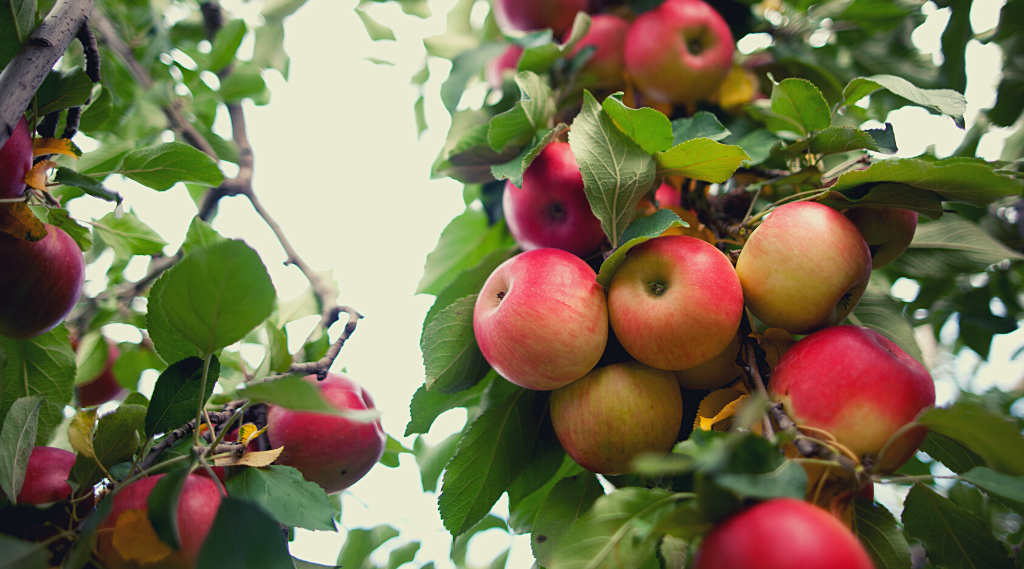 15% Off November & December Plant Sale Dates!
This year (2022) at Rick's we have a little something special in time for the holidays: a 15% off houseplant sale starting November 7th and ending December 23rd! Every week, a different kind of house plant will be on sale, which is presented in the calendars and list below. There will also be updates on Facebook and Instagram about which plants, like bromeliads and aroids, will be for sale and when! Each plant however is on discount only for a week-long, first come first serve and while supplies last. Putting these plants on hold is unavailable these two months, so hurry in if you have your eye on something special for you or a loved one! We hope to see you soon!
Order of 15% Off Sale:
Nov 7th-12th 15% Off Philodendrons
Nov 14th -19th 15% Off Bromeliads
Nov 21st-26th 15% Off Aroids
Nov 28th-Dec 3rd 15% Off Cactus & Succulents
Dec 5th-10th 15% Off Ficus & Peace Lily
Dec 12th-17th 15% Off Carnivorous Plants
Dec 19th-23rd 15% Off Plants 8 inches or Larger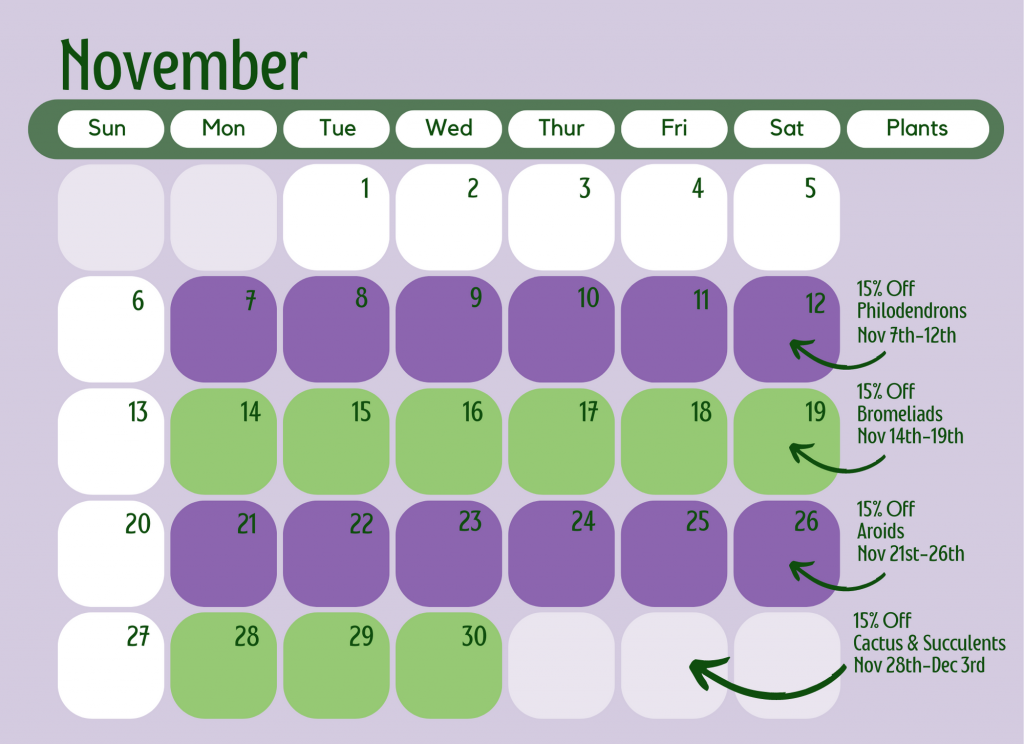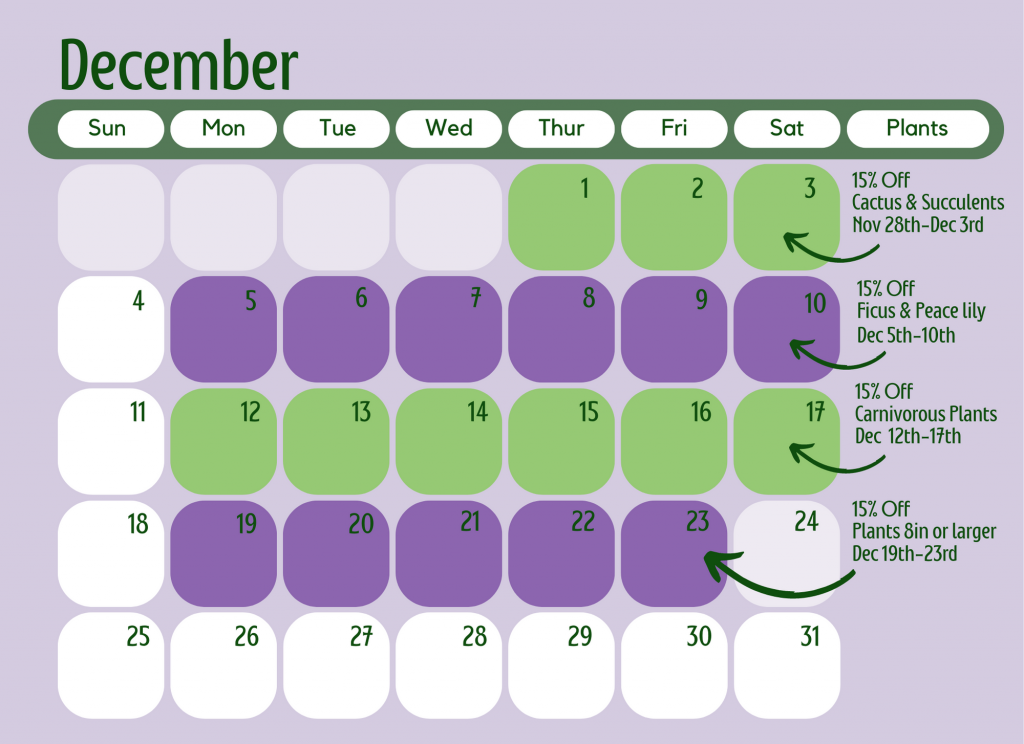 Here at Rick's Garden Center, we'd like to introduce you to our two new special guests living within the store: Mist and Jupiter! Mist and Jupiter are geckos, Mist being a female common Leopard gecko and Jupiter being a male crested gecko. They each live in separate terrariums, featuring plants similar to those found within their indigenous landscapes. They can be found in the houseplants section here at Rick's Garden Center.
Jupiter's home consists of a jungle within a vertical tank, as crested geckos dwell in trees and canopies of tropical environments. These lizards are native only to southern New Caledonia, making his appearance here at our store all the more special! Like most crested geckos, Jupiter enjoys hiding within the dense foliage of his terrarium and sleeping due to his species' nocturnal tendencies. Crested geckos often will lose their tails in events they feel threatened and unlike many lizards, are unable to regrow them. Hence, we leave it to the professionals to handle Jupiter. You will often see him outside of his tank with his owner, Lie.
Mist is the other gecko and she lives in the desert terrarium. Her enclosure is rocky and warm, replicating the environments her species originate from in the Middle East. Mist however is less frequently within her home than Jupiter is and instead she often accompanies Rick's workers on their daily routines. She helps out mostly upstairs by the registers or within the houseplant and succulent rooms, tagging along with Rick's workers by clinging to their arms or shoulders.
Please come in anytime and say hello to Mist and Jupiter, they'd be excited to meet you. And if you're not a reptile person that's okay-our most frequent customer, the cat Lucius, comes by at least once a day to the store. Happy gardening!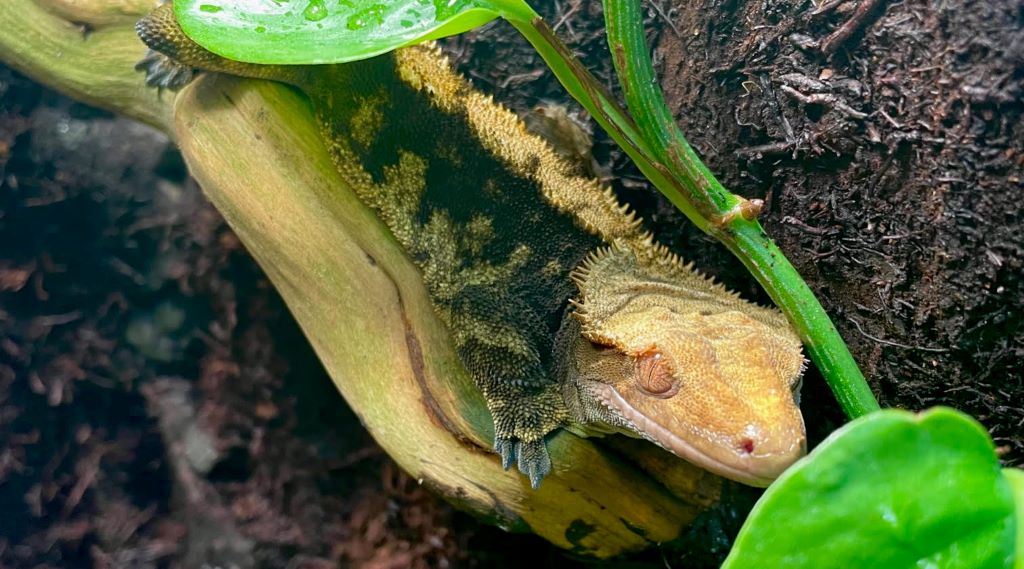 Too Deep in Love: Two Common Killers of Freshly Planted Trees
Trees are the cornerstones of our landscapes. No other kind of plant impacts the local ecosystem as broadly and effectively as trees; they create shady, cool microclimates, provide erosion control with their expansive roots, and supply habitat and food for many creatures. Planting trees is not difficult, but with their slow growth and considerable price, it pays to get it right the first time. Here are two common problems we see with freshly planted trees at Rick's Nursery.
The most common and fatal error in planting trees is burying the root ball too deep. It only takes a few inches of soil on top of the root ball to smother it. When you plant your tree, take it out of the pot, then lightly brush off the loose soil on top-assume that the tree was never planted at the correct depth in the pot by the nursery that grew it. Then, after you finish planting the tree, you should still be able to see the top of the potting soil. In areas of poor soil drainage, it may be appropriate to leave the "shoulders" of the root ball as much as 2 inches above grade. Top with mulch to prevent the surface roots from drying out, but be careful not to contact the trunk. It will look wildly incorrect when created for the first time, but it is essential to the plant's health. When you plant too deep, you starve the roots of oxygen, and the tree is prone to dying within the first 2-7 years of planting. Once you start observing trees, you may even begin to notice mature ones that are planted too deeply; trees should never look like a telephone pole sticking out of the ground, there should always be a distinct root flare. If you have already planted your tree too deep, you can carefully excavate by hand around the root flare to expose it. You can even mitigate too-deep planting in mature trees, though care should be taken not to damage roots. Just carefully remove the soil until you find the root flare, then mulch.
Our soil in most parts of Colorado is notoriously poor. Whether you have sand, clay, or just decomposed granite on bedrock, amending your soil with organic matter can solve several soil problems. We often forget, however, that in life and gardening, moderation is key. When you amend the backfill of your planting hole, you should use a maximum ratio of 1 part compost to 4 parts native soil. When you amend by more than 20% organic matter, you risk "containerising the hole." This happens when you over-prepare the backfill of your planting hole; the roots of your tree are content with the fluffy, rich soil, and never establish outside the new hole. This creates circling roots and other problems associated with container trees, thus "containerising the hole." Trees whose soil is over-amended are more prone to overwatering because the soil holds on to excess moisture. Trees may also begin to sink and list to one side as the extra compost decomposes and shrinks in volume, especially when the compost is dug under the root ball. Thus, the bottom of your planting hole should always be firm, unamended soil. Fresh compost should never contact the roots directly and should be mixed thoroughly into the backfill soil. Depending on what kind of tree, and the soil condition, it might be wisest to skip amendment altogether, and just let the wood mulch on top do the soil work. Generally, though, just a dab of compost will do the trick. Ultimately, we gardeners see soil amendment as an act of caring; just make sure not to love your tree to death.
Nothing makes us happier at Rick's Garden Center than seeing your nursery plants thrive. For more information on planting, see our Tree and Shrub Planting Guide, available on our website. Happy planting!
Small Pot Sizes, Mighty Plants
Here in the nursery at Rick's Garden Center, we tend towards smaller pot sizes. In the nursery business, pots are sized according (loosely) to their volume in gallons. A #5 pot, therefore, holds roughly 5 gallons of soil. It should be noted that these sizes are not standardized; a #5 pot can be anywhere from 3.4 to 5.4 gallons. Our shrubs are typically in the #2 to #5 pot size, and our trees tend to be #5 to #15. These sizes are smaller than what some other nurseries offer, especially in trees. There are a handful of good reasons for this, and I'd like to explore those with you now.
First is affordability. Smaller-sized pots hold smaller plants, and smaller plants cost less. The less I spend on any one plant, the more plants I can buy. It's important to us at Rick's to get plants into the hands of as many people as possible, and keeping our nursery stock small in size helps us accomplish this. Smaller pots even pay off in sweat equity; a smaller rootball means a smaller hole to dig and much less weight to move around. Planting small can save both your wallet and your back.
Another reason has everything to do with establishment. Establishment is the magic moment when your plant reaches outside its root ball and lays new roots in the surrounding soil. Smaller trees and shrubs establish faster and use less water in the process. Trees typically take one year per inch of caliper to establish. Caliper is the measure of the trunk's diameter 6 inches above the soil line. That is to say, a 1" caliper tree will take one year to reach establishment, while a 2.5" caliper will take 2.5 years or more. This means that a #5 pot tree will catch up, and possibly eclipse the growth of a #15 pot tree since the #5 pot tree will establish much faster than the #15 pot tree will. Also, it takes much less water to soak a #5-sized root ball compared to a #15 or larger pot size. Multiply that by the number of times you need to water your plant until it establishes, and the water savings from planting small becomes apparent–especially when you consider the establishment period is much longer for larger plants. At Rick's, we believe that water-wise landscaping practices should be the norm.
Finally, by keeping smaller pot sizes we can carry more varieties of plants. Our footprint at Rick's nursery is modest compared to other nurseries. Keeping pot sizes small means we can fit more plants in the same space, which equates to more awesome varieties of trees and shrubs for you to shop. In this nursery, we think variety is the spice of life, and we like our plant selections to be as spicy as possible!
In the end, the only argument in favor of planting large specimens is our need for instant gratification. The impact a large specimen plant can make on a new landscape is undeniable; however, we hope that this blog post inspires you to consider a smaller pot size for your next landscape plant purchase. Happy planting!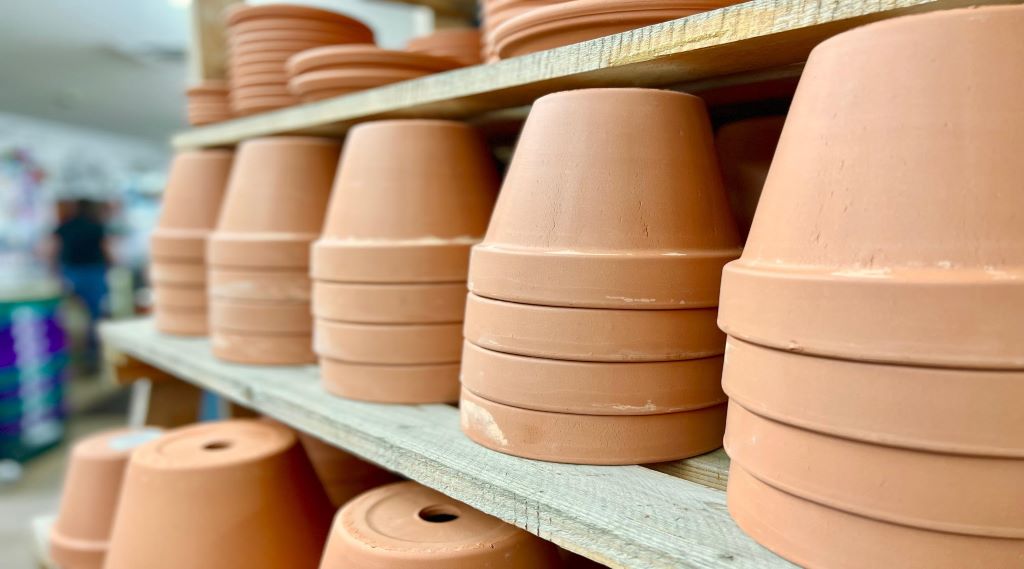 What are bare root trees?
Bare root trees are harvested from their growing beds in the late fall, and the soil is removed from their roots. They are kept in cold storage over the winter, and planted before they break dormancy in the spring.
What are the advantages of planting bare root trees?
Improved Tree Health
Bare root trees are not grown in a container. This eliminates the industry-wide problems of circling and girdling roots that develop in container-grown stock, a major threat to even healthy-looking plants. Also, since bare root trees are planted early in the spring before they leaf out, the trees get a head start on developing strong root systems in the native soil before they start producing leaves, flowers, and fruit.
Light Weight & Reduced Environmental Impact
Bare root trees are much lighter when shipped. This saves on freight and fuel and makes them easier to maneuver while planting.
More Cost Effective
Shipping bare root trees is much less expensive, and that savings is passed directly to the customer. Our trees will be comparable in size to a #5 container tree, but for half the price! (All trees will be a minimum of 5/8th inch caliper.)
We are excited to offer bare root fruit trees at Rick's this spring! We are working hard to bring you the best fruit trees possible.
Excellent Quality
The bare root fruit trees we are selling will be of superior quality! We chose to source these trees specifically from growers who supply professional orchardists. Van Well Nursery is based in Washington state and works with several orchards in the Palisade, Colorado area. They have an excellent reputation among professional growers, and we're excited to offer that level of quality in Colorado Springs! We have consulted with Van Well to bring you the best in bare root fruit trees for our local climate.
Exceptional Rootstock
Since their seed is not true to type, fruit trees are produced from cuttings. Many species of apples, pears, and plums do not root easily from cuttings, so they are grafted onto rootstock grown specifically for this purpose, a practice dating back over 2,000 years.
When purchasing any fruit tree, it is important to inquire about the quality of the rootstock. For our bare root trees, all apples are grafted onto EMLA 7 rootstock. This rootstock is semi-dwarfing, meaning each variety will grow about 50-60% smaller than typical, which is perfect for backyard orchards. This rootstock was chosen for its cold hardiness and extreme resistance to fireblight. The plums are grafted onto a peach seedling rootstock.
Interesting Varieties
This year, Rick's will have eight kinds of apples and two kinds of plums to choose from. We will have heritage apples like Macoun and Yellow Newton, and some new arrivals like Ambrosia and Gale Gala. We even have an apple variety that's used for cider, Yarlington Mill, which arose from a chance seedling discovered in 1898! The plum varieties are both European plums and are very cold hardy.
It should be noted that all apples need another apple (or fruit-bearing crabapple) of a different variety to cross-pollinate. Both types of plums that we carry are semi self-fruitful, but they will bear a heavier crop with a different plum cultivar nearby to cross-pollinate. The two plum varieties we will be carrying will cross-pollinate with each other very nicely. For fruit trees to cross-pollinate, they should be planted within 100 feet of each other.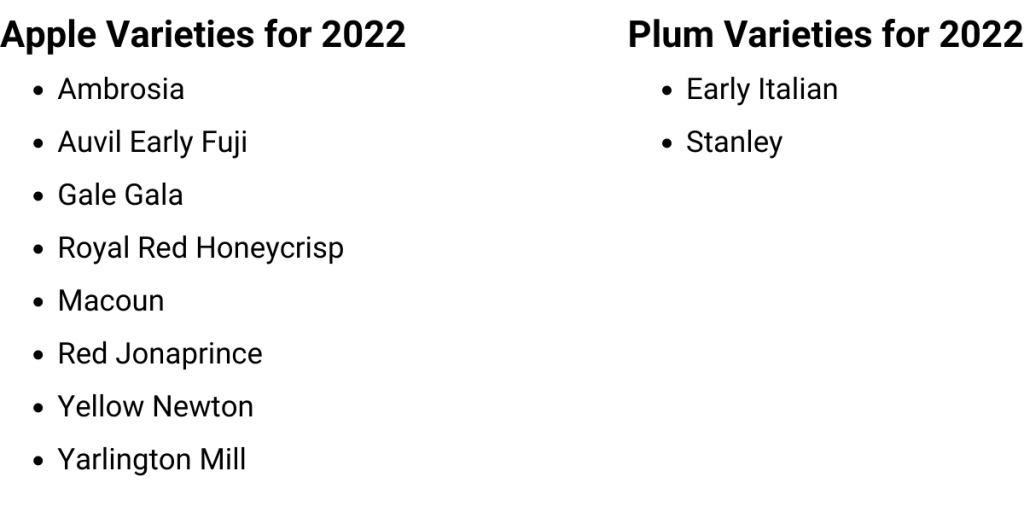 Cost and Availability
Each bare root tree will be $39.99 and will be sold on a first come, first served basis.
The trees will be arriving in early March, weather permitting. We will continue to sell the bare root trees until they start to break bud, most likely in early April.
If you would like to be notified when the bare root trees become available, please email us at info@ricksgarden.com or call the store at (719) 632-8491 to be put on our notification list.
Timing and Handling
Timing is important when purchasing and planting bare root fruit trees. Bare root trees can only be planted in the early spring. Bare root trees that are planted after they leaf out have a much lower survival rate.
Proper handling is crucial for bare root stock. Roots should never be allowed to dry out – even five minutes of sun exposure on a warm day can do life-threatening damage to the tree. When you purchase a bare root tree from Rick's, you will be provided with a burlap sack and wet mulch (or other means) to protect the roots during transportation.
The tree should be planted as soon as you get home from the nursery. If you will not be able to plant the tree immediately, please talk to our nursery staff so they can advise you on proper storage procedures.
Planting
Planting bare root trees is very similar to planting trees that have been grown in containers. The most important thing is to not plant too deep; you should have a structural root within the first one to two inches of soil. Amend soil to a maximum ratio of one part compost to four parts native soil. Cover the planting area with three inches of mulch, taking care to not contact the trunk. Staking may be necessary depending on root spread, soil type, and wind exposure.
Protection
Young trees that are small in diameter are the perfect size for deer to rub their antlers on. If deer graze in your neighborhood, cage trees immediately after planting. Trees left unprotected for even one night can be terminally damaged by deer.
For additional tree planting resources, please visit:
Tree & Shrub Planting Guide by Rick's Garden Center:
The Science of Planting Trees by CSU Extension: https://cmg.extension.colostate.edu/Gardennotes/633.pdf
Stop the Problem Before it Starts
Always check a plant over for pests before you purchase.
Look at the plant's overall health, checking for correct leaf texture and consistent coloring. There will almost always be small imperfections from shipping or normal wear and tear, but there should not be dark spotting or discoloration across the entire plant.
Look very closely at the leaves, particularly underneath near the area where the stem meets the leaf. If you see any small white or brown/black dots, show it to a nursery employee. They will be able to confirm if the dots are actually pests or simply dust/dirt.
Dig your finger through the dirt at the base of the plant. Look for anything moving around or flying out of the pot. Any pests that you find in the dirt will generally be much easier to get rid of, so if you see something, just be aware that you will need to treat the plant when you get home.
Always quarantine your plants when you get home. Even if you checked them over at the nursery, there is a chance that some pests snuck under the radar. The safest practice is to keep your new plants in a separate room from any other plants for about a week. Recheck your new plants every day and treat as necessary. All pests spread easily between plants, so you are protecting yourself (and your plants) from a larger problem if you quarantine any new purchases.
Identifying the Culprit
Identifying pests in your houseplants can sometimes be difficult. Many of them are so tiny you cannot see them with your bare eyes, others are more obvious. The following descriptions can help you identify which pests are "bugging" your houseplants.
Fungus Gnats
Effect on the Plant
Fungus gnats do not often cause enough damage to a plant to be noticeable. However, the larvae does feed on the roots of plants, so if an infestation is bad enough, they can kill your plants.
Appearance
Adult fungus gnats look a lot like the common fruit fly, but with a longer abdomen that comes to a point at the back. They range from light brown to black in color.
Fungus gnat larvae range from yellow to white with dark brown tips on one end.
Fungus gnat eggs are small, round, semi-opaque and white in color. They are usually found stuck together in a bunch.
Solutions
Fungus gnats are attracted to consistently damp soil – so the first solution is to let your soil dry out as much as possible before watering again. This will make your soil less tempting for them to lay their eggs in.
You can also set out yellow sticky traps to catch and kill the adults. This will help with keeping the population down.
If you have a worse infestation, the most aggressive way to get rid of fungus gnats is with Mosquito Bits. Mix 5-6 tablespoons of Mosquito Bits with a gallon of water and let them sit for at least 24 hours. Then use this tea to water your plants. It will make the soil inhabitable for the adults and will kill any larvae or eggs that are already present in the soil. You may also layer the Mosquito Bits over the soil (ensuring to cover the entire surface) and then water as usual; however, this method can cause white mold to grow on the surface of your soil. The mold is harmless to you and your plants, but it can be unsightly. You will want to treat with Mosquito Bits for at least 4 weeks (depending on the frequency of watering) to break the life cycle.
Always follow the directions for your safety and the safety of your family, pets and plants.
Usually a combination of all three methods is the best way to completely get rid of fungus gnats. Once you have eradicated the original infestation, you can continue to water with Mosquito Bit tea once every other month to stop them from reappearing.
Spider Mites
Effect on the Plant
Spider mites also feed on the liquid stored inside plant leaves, so they leave behind very small white or yellow circles from their feeding on the leaves. The damage left by spider mites is often not noticeable until it is extensive – the on the plant will look speckled with a lighter coloration, and will often be limp. Spider mites also leave behind a small web made of very fine strands. hat can be seen between the leaves and stems of your plant.
Appearance
Adult spider mites are often too small to see with the naked eye. They look like tiny flecks of dirt and range in color from brown and red to white. They will move around if you watch for long enough. They usually gather on the underside of the leaves, nearer to the stem.
Solutions
Spider mites are attracted to dry and arid areas, so they are fairly common in Colorado houseplants. To stop an infestation from starting, you can spray or wipe your plants with diluted neem oil once every few weeks. Only spray in the early morning or in the evening to avoid burning your leaves. Check the leaves (especially the undersides) and stems regularly so you can catch them early if they decide to move in.
To treat an already started infestation, you want to:
First, quarantine any plants that show signs of spider mites.
Next, spray your plants' leaves with water using a sink, hose, or shower to remove most of the spider mites and their webs. During this process, be careful to not drench the soil – keep the stream aimed at only the foliage to avoid drowning your plant. If your plant has delicate foliage that will not stand up to being sprayed, you can gently dip the plant in water (only the leaves and stems, not the pot) and gently swirl to remove the spider mites.
Then, either spray or gently wipe diluted neem oil on to all of the leaves and stems of the plant. Apply the neem oil either early in the morning or late in the evening to avoid burning the leaves in any intense daytime light. Continue this treatment every 4 days, until all signs of spider mites have been gone for at least 3 weeks.
If the infestation persists, you can switch to a spinosad treatment. You can find these products at your local garden store. It is recommended that you use these products outside only unless the bottle is specifically marked for indoor use.
Always follow the directions for your safety and the safety of your family, pets and plants.
Once the infestation is gone (you have seen no signs of spider mites for at least 3 weeks), you can cut off any leaves that show spider mite damage so your plant has more energy for new, healthy growth.
Mealybugs
Effect on the Plant
Mealybugs also feed on the sugary sap within the leaves – they typically leave behind dark round circles on the leaves. Once the damage is extensive enough, the leaf will wilt and fall off. Mealybugs also leave behind a very fine white webbing that is often woven in tight spheres, making them look like small, plush, white balls.
Appearance
Adult mealybugs most often look like small white circles to the naked eye, however they can get large enough to see the definition in their many legs without a microscope. The larvae are very small and usually opaque yellow, and they are too small to be seen with the naked eye.
Solutions
Mealy bugs are attracted to soft plant matter, so they are usually found on plants that have been overwatered (causing the leaves to go soft). They are also attracted to high nitrogen levels, so over fertilizing your plants can attract them as well. Be sure to only water when your plant needs it, and have a well draining potting mix. Treating your plants and soil with diluted neem oil will also keep mealybugs away.
To treat an already started infestation, you want to:
First, inspect all of your plants carefully and quarantine any that show signs of mealybugs.
Next, you should remove all of the mealybugs you can see by using a Q-tip dipped in 3% rubbing alcohol. Throw away the removed mealybugs somewhere outside of your house.
Then, treat all affected plants with diluted neem oil every 4-7 days (depending on the severity of the infestation) for around 6 weeks.
Once the infestation is gone, remove all leaves that show signs of mealybug damage.
Always follow the directions for your safety and the safety of your family, pets and plants.
Scale Insects
Effect on the Plant
Scale insects feed on the sap found in the leaves and stems of houseplants, so they will leave small yellow or brown spots behind. They also excrete a sticky sap, that attracts ants.
Appearance
Adult scale looks very similar to the damage it leaves behind. They are small, circular and flat. It is common to confuse a scale bug with a the normal damage you would see on a healthy leaf or stem. You can try scraping the brown area off with your fingernail, and if it comes off easily and does not leave behind an open wound on the plant, it is likely scale. The adults are usually between 1/8″ to 1/4″ in size.
Solutions
Scale insects are very easy to mistake as a part of the plant, so it is important to inspect your houseplants often. Look for the sticky sap they leave behind or any increase in ants present around your plants.
To treat an already started infestation, you want to:
First, inspect all of your plants carefully and quarantine any that show signs of scale.
Next, you should remove all of the scale you can see by using your fingernail or a pair of tweezers. Try not to damage the surface of the plant too much during the removal process. Throw away the removed scale somewhere outside of your house.
Next, treat all affected plants with diluted neem oil every 4-7 days (depending on the severity of the infestation) for around 6 weeks.
Once the infestation is gone, remove all leaves that show signs of scale damage.
Always follow the directions for your safety and the safety of your family, pets and plants.
Aphids
Effect on the Plant
Aphids suck the sap of your plants and leave behind a sticky substance called honeydew. Sometimes the first sign of an infestation is an uptick in ants present on your plants because they are attracted to the honeydew. Aphids will often leave small holes behind in the leaves they have fed on.
Appearance
Adult aphids are some of the easiest pests to spot – but they are still quite small. Adults vary in color from dark brown and red to white or bright green. They can be seen without a microscope.
Aphid eggs are tiny, oblong and usually a light green or white color. They can be seen stuck on the underside of leaves, but are sometimes housed in a light gray casing that resembles dust or dirt.
Solutions
Aphids can come into the house through open windows or in contaminated soil and plants. To keep aphids from reaching your houseplants, be sure to thoroughly inspect any new houseplants or potting soil for signs of insect activity.
To treat an already started infestation, you want to:
First, inspect all of your plants carefully and quarantine any that show signs of aphids.
Next, spray your plants' leaves with water using a sink, hose or shower to remove most of the aphids. During this process, be careful to not drench the soil. Keep the stream aimed at only the foliage to avoid drowning your plant. If your plant has delicate foliage that will not stand up to being sprayed, you can gently dip the plant in water (only the leaves and stems, not the pot) and gently swirl to remove the aphids.
Then prune all of the affected foliage.
From here, there are a few effective options to stop the aphids from coming back.
Predatory insects – you can release ladybugs or green lacewings to control aphid populations. This is usually a more popular choice for those growing in outdoor greenhouses, but some do not mind having ladybugs in their house. Keep in mind, these predatory insects will die off once the aphids are gone.
You can also kill aphids with neem oil. Spray or wipe your plants thoroughly (tops and bottoms of the leaves and stems) with diluted neem oil every 4-7 days, depending on the severity of the infestation. You should treat until the aphids have been gone for about a month.
Always follow the directions for your safety and the safety of your family, pets and plants.