Rick's Garden Center Bare Root Fruit Trees 2023
Great news for backyard orchardists- our bare root fruit trees just got confirmed for Spring 2023. This will be our second year offering bare root trees in the nursery. For those not in the know, bare root trees are sold, as the name suggests, without any soil on the roots. There are numerous benefits of planting bare root, but time is of the essence as far as purchasing, handling, and planting are concerned. If you missed our blog post from last year, check [here] for a great rundown on what bare root trees are, how to handle and plant them, and a lot of other great information. Here's a brief rundown of some important information you can find there:
Why Bare Root?
Improved tree health- no circling or girdling roots, easier transplant
Reduced weight- less gas used, less expensive shipping, easier handling/planting
Cost effective- roughly ½ the price of similar-sized container trees. All varieties will be $48.99, tax free (that's right- you pay with a $50 bill, we'll give you back a dollar and a penny in change.)
When are they available?
This depends largely on weather- trees should be arriving in early April. All bare root trees are sold on a first come, first served basis. Sales end when trees break dormancy–usually in late April–which necessitates their immediate planting. If you'd like to be notified when they arrive, please email info@ricksgarden or call the store at (719) 632-8491.
We've made some tweaks to our available varieties, and I'd like to take the time and share them with you. We have some varieties I'm confident you won't find anywhere else.
Ambrosia Apple
This variety arose from a chance seedling discovered in British Columbia. This is one of the newest varieties available at Rick's nursery, and has a sweet, juicy, aromatic fruit. This apple boasts beautiful color, long storage time, and once cut is slow to brown due to its low acidity.
Auvil Early Fuji Apple
This sport has all of the things you love about Fuji apples, and is ready for harvest six weeks earlier, making this apple a great option to spread out your harvest time. Discovered by Grady Auvil, a renowned Washington orchardist. Complex in flavor with a dense, crisp flesh.
Gale Gala Apple
This exclusive, improved Gala strain is noted for its beautiful, deep red color. Available only through VanWell nursery, our distinguished wholesale grower. Similar in taste and texture to Royal Gala making it good for both fresh eating and preserving, and perfect for desserts.
Royal Red Honeycrisp Apple
Everyone's favorite apple now comes with better storage time and improved color. The perfectly snappy, crisp texture and sweet, slightly tart profile explain this apple's overwhelming popularity. A versatile, hardy, and in-demand apple.
Red King Red Flesh Apple
New this year to Rick's nursery, this apple has the unique feature of dark red flesh- even the juice is pink! Brilliant red skin, beautiful pink flowers, and an irresistible crunch are other qualities of note. This tree is triploid, which means that its pollen is sterile and will not pollinate other apples. For those interested in only the most unique apples, this variety is sure to please.
Red McIntosh Apple
It's hard to think of a more classic apple than the McIntosh, whose popularity has been holding steady for more than 200 years. Perhaps also the poster child of the "all-purpose" apple, this variety has impeccable range as fresh, baked, preserves, cider, and many other applications. A supremely hardy, reliable producer.
Yellow Newtown Apple
The oldest heritage apple available through our bare root program, the Yellow Newtown (also called Newtown Pippin) originated in the late 17th century. Regarded as a winter apple due to its impeccable storage time, its flavor actually improves after harvest. As Thomas Jefferson said while visiting Paris, "they have no apples here to compare with our Newtown Pippin."
Benton Cherry
This sweet cherry does it all: it is self-fertile (does not require a pollinator), late-blooming (to avoid early Spring frosts), semi-freestone (easy to pit), and has a gorgeous carmine color. A reliable producer with large fruit, its taste is superbly sweet with just enough acidity to make it perfect for fresh eating and also baking and preserves.
Early Italian Plum
This self-fertile plum is rich in flavor and ripens sooner than regular Italian plums, a boon to those of us with a short growing season. Another versatile "all-purpose" variety that is good right off the tree as well as in the kitchen. Tree features smaller stature and fragrant blooms.
Thanks for reading! We hope to see you in the nursery this Spring. We open our doors mid-April, but we have staff on board all year long to aid you in your gardening quest. Happy planting!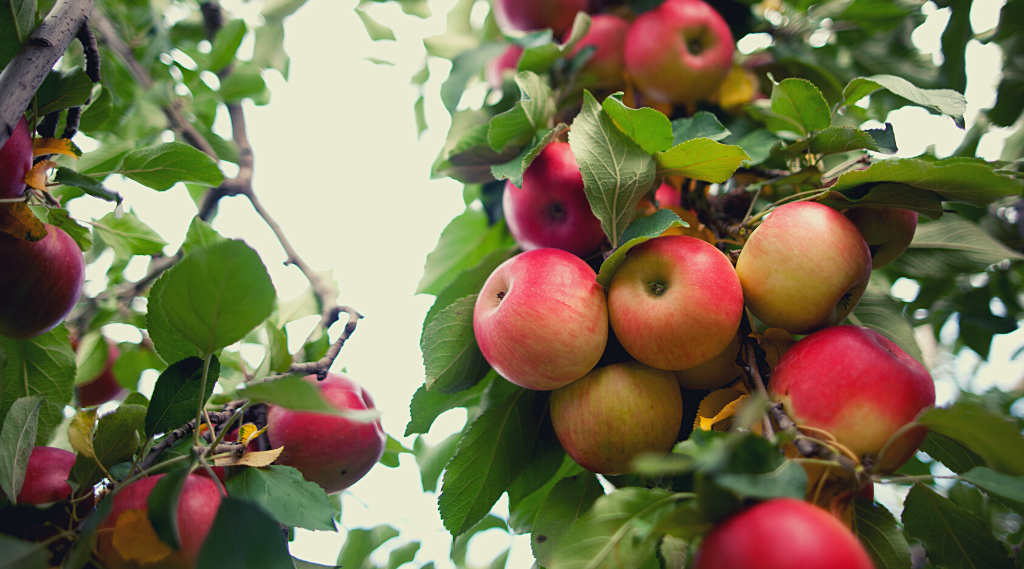 Bare Root Fruit Trees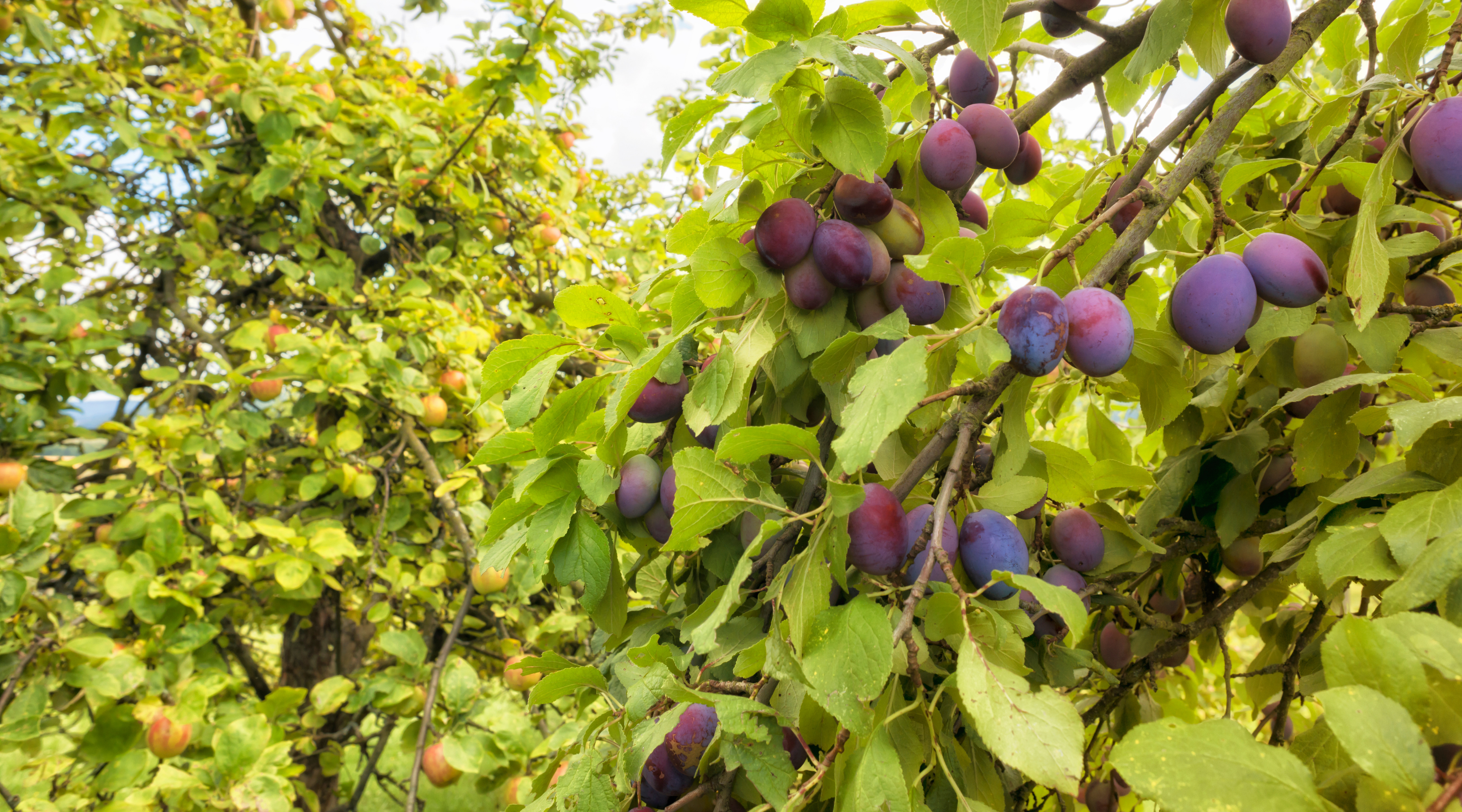 What are bare root trees?
Bare root trees are harvested from their growing beds in the late fall, and the soil is removed from their roots. They are kept in cold storage over the winter, and planted before they break dormancy in the spring.
What are the advantages of planting bare root trees?
Improved Tree Health
Bare root trees are not grown in a container. This eliminates the industry-wide problems of circling and girdling roots that develop in container-grown stock, a major threat to even healthy-looking plants. Also, since bare root trees are planted early in the spring before they leaf out, the trees get a head start on developing strong root systems in the native soil before they start producing leaves, flowers, and fruit.
Light Weight & Reduced Environmental Impact
Bare root trees are much lighter when shipped. This saves on freight and fuel and makes them easier to maneuver while planting.
More Cost Effective
Shipping bare root trees is much less expensive, and that savings is passed directly to the customer. Our trees will be comparable in size to a #5 container tree, but for half the price! (All trees will be a minimum of 5/8th inch caliper.)
We are excited to offer bare root fruit trees at Rick's this spring! We are working hard to bring you the best fruit trees possible.
Excellent Quality
The bare root fruit trees we are selling will be of superior quality! We chose to source these trees specifically from growers who supply professional orchardists. Van Well Nursery is based in Washington state and works with several orchards in the Palisade, Colorado area. They have an excellent reputation among professional growers, and we're excited to offer that level of quality in Colorado Springs! We have consulted with Van Well to bring you the best in bare root fruit trees for our local climate.
Exceptional Rootstock
Since their seed is not true to type, fruit trees are produced from cuttings. Many species of apples, pears, and plums do not root easily from cuttings, so they are grafted onto rootstock grown specifically for this purpose, a practice dating back over 2,000 years.
When purchasing any fruit tree, it is important to inquire about the quality of the rootstock. For our bare root trees, all apples are grafted onto EMLA 7 rootstock. This rootstock is semi-dwarfing, meaning each variety will grow about 50-60% smaller than typical, which is perfect for backyard orchards. This rootstock was chosen for its cold hardiness and extreme resistance to fireblight. The plums are grafted onto a peach seedling rootstock.
Interesting Varieties
This year, Rick's will have eight kinds of apples and two kinds of plums to choose from. We will have heritage apples like Macoun and Yellow Newton, and some new arrivals like Ambrosia and Gale Gala. We even have an apple variety that's used for cider, Yarlington Mill, which arose from a chance seedling discovered in 1898! The plum varieties are both European plums and are very cold hardy.
It should be noted that all apples need another apple (or fruit-bearing crabapple) of a different variety to cross-pollinate. Both types of plums that we carry are semi self-fruitful, but they will bear a heavier crop with a different plum cultivar nearby to cross-pollinate. The two plum varieties we will be carrying will cross-pollinate with each other very nicely. For fruit trees to cross-pollinate, they should be planted within 100 feet of each other.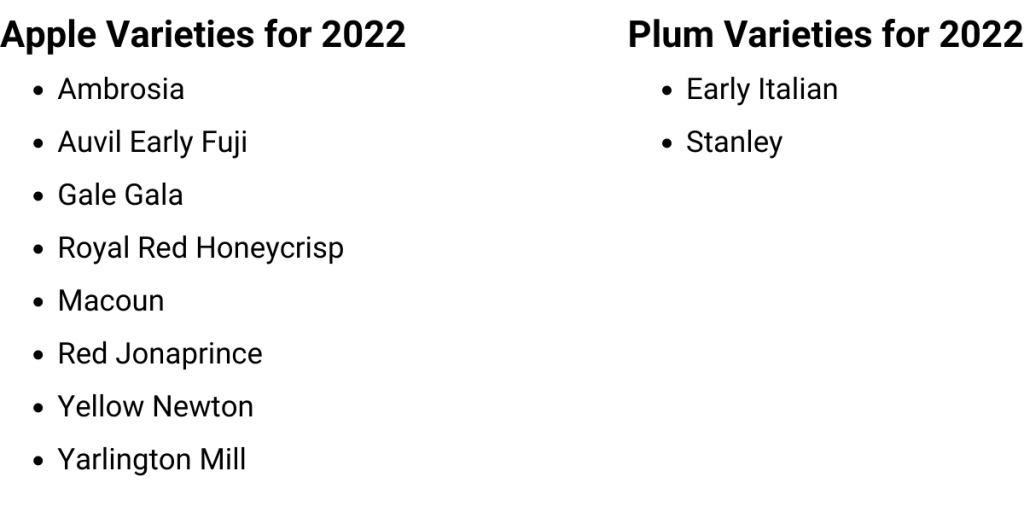 Cost and Availability
Each bare root tree will be $39.99 and will be sold on a first come, first served basis.
The trees will be arriving in early March, weather permitting. We will continue to sell the bare root trees until they start to break bud, most likely in early April.
If you would like to be notified when the bare root trees become available, please email us at info@ricksgarden.com or call the store at (719) 632-8491 to be put on our notification list.
Timing and Handling
Timing is important when purchasing and planting bare root fruit trees. Bare root trees can only be planted in the early spring. Bare root trees that are planted after they leaf out have a much lower survival rate.
Proper handling is crucial for bare root stock. Roots should never be allowed to dry out – even five minutes of sun exposure on a warm day can do life-threatening damage to the tree. When you purchase a bare root tree from Rick's, you will be provided with a burlap sack and wet mulch (or other means) to protect the roots during transportation.
The tree should be planted as soon as you get home from the nursery. If you will not be able to plant the tree immediately, please talk to our nursery staff so they can advise you on proper storage procedures.
Planting
Planting bare root trees is very similar to planting trees that have been grown in containers. The most important thing is to not plant too deep; you should have a structural root within the first one to two inches of soil. Amend soil to a maximum ratio of one part compost to four parts native soil. Cover the planting area with three inches of mulch, taking care to not contact the trunk. Staking may be necessary depending on root spread, soil type, and wind exposure.
Protection
Young trees that are small in diameter are the perfect size for deer to rub their antlers on. If deer graze in your neighborhood, cage trees immediately after planting. Trees left unprotected for even one night can be terminally damaged by deer.
For additional tree planting resources, please visit:
Tree & Shrub Planting Guide by Rick's Garden Center:
The Science of Planting Trees by CSU Extension: https://cmg.extension.colostate.edu/Gardennotes/633.pdf
Houseplant Pest Guide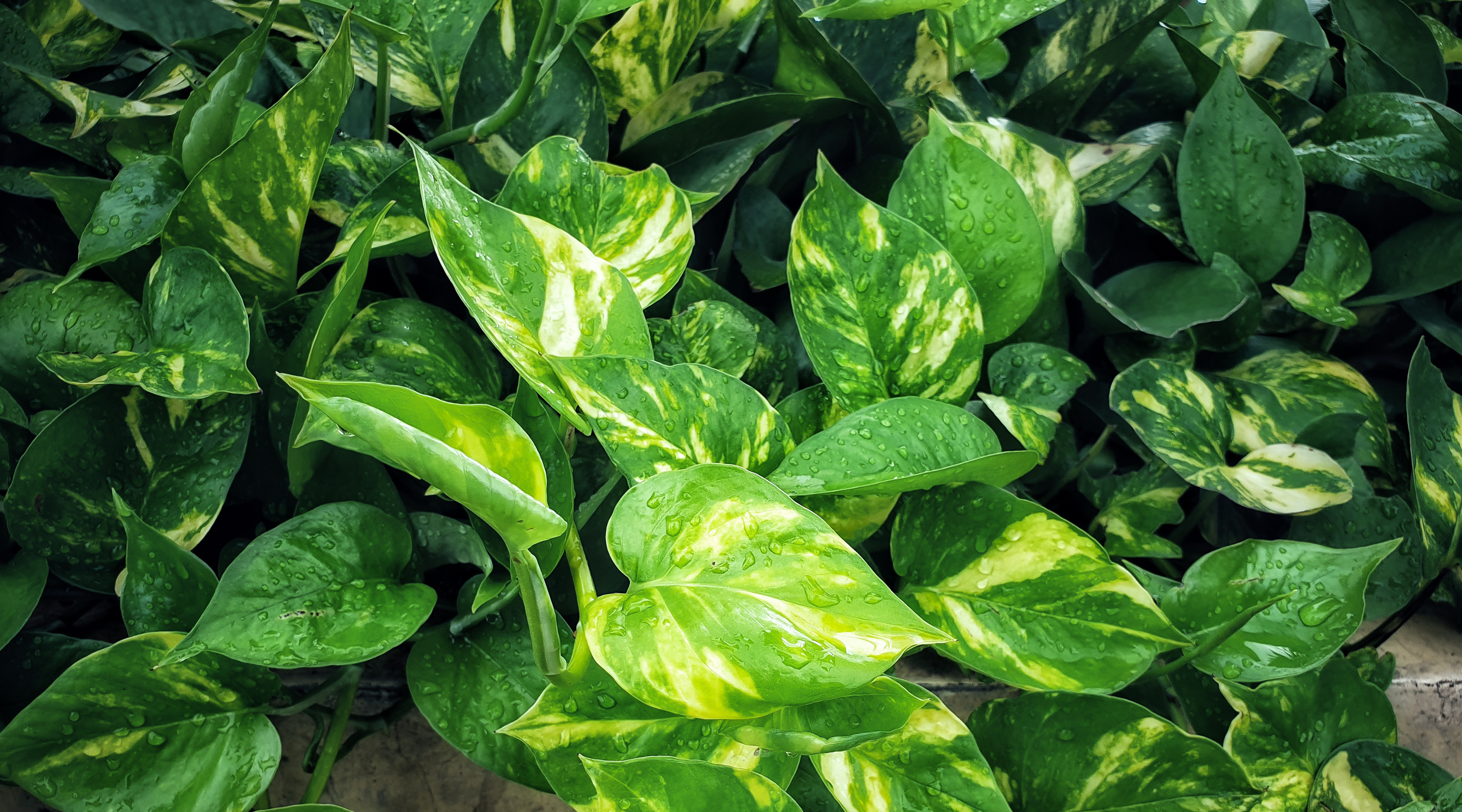 Stop the Problem Before it Starts
Always check a plant over for pests before you purchase.
Look at the plant's overall health, checking for correct leaf texture and consistent coloring. There will almost always be small imperfections from shipping or normal wear and tear, but there should not be dark spotting or discoloration across the entire plant.
Look very closely at the leaves, particularly underneath near the area where the stem meets the leaf. If you see any small white or brown/black dots, show it to a nursery employee. They will be able to confirm if the dots are actually pests or simply dust/dirt.
Dig your finger through the dirt at the base of the plant. Look for anything moving around or flying out of the pot. Any pests that you find in the dirt will generally be much easier to get rid of, so if you see something, just be aware that you will need to treat the plant when you get home.
Always quarantine your plants when you get home. Even if you checked them over at the nursery, there is a chance that some pests snuck under the radar. The safest practice is to keep your new plants in a separate room from any other plants for about a week. Recheck your new plants every day and treat as necessary. All pests spread easily between plants, so you are protecting yourself (and your plants) from a larger problem if you quarantine any new purchases.
Identifying the Culprit
Identifying pests in your houseplants can sometimes be difficult. Many of them are so tiny you cannot see them with your bare eyes, others are more obvious. The following descriptions can help you identify which pests are "bugging" your houseplants.
Fungus Gnats
Effect on the Plant
Fungus gnats do not often cause enough damage to a plant to be noticeable. However, the larvae does feed on the roots of plants, so if an infestation is bad enough, they can kill your plants.
Appearance
Adult fungus gnats look a lot like the common fruit fly, but with a longer abdomen that comes to a point at the back. They range from light brown to black in color.
Fungus gnat larvae range from yellow to white with dark brown tips on one end.
Fungus gnat eggs are small, round, semi-opaque and white in color. They are usually found stuck together in a bunch.
Solutions
Fungus gnats are attracted to consistently damp soil – so the first solution is to let your soil dry out as much as possible before watering again. This will make your soil less tempting for them to lay their eggs in.
You can also set out yellow sticky traps to catch and kill the adults. This will help with keeping the population down.
If you have a worse infestation, the most aggressive way to get rid of fungus gnats is with Mosquito Bits. Mix 5-6 tablespoons of Mosquito Bits with a gallon of water and let them sit for at least 24 hours. Then use this tea to water your plants. It will make the soil inhabitable for the adults and will kill any larvae or eggs that are already present in the soil. You may also layer the Mosquito Bits over the soil (ensuring to cover the entire surface) and then water as usual; however, this method can cause white mold to grow on the surface of your soil. The mold is harmless to you and your plants, but it can be unsightly. You will want to treat with Mosquito Bits for at least 4 weeks (depending on the frequency of watering) to break the life cycle.
Always follow the directions for your safety and the safety of your family, pets and plants.
Usually a combination of all three methods is the best way to completely get rid of fungus gnats. Once you have eradicated the original infestation, you can continue to water with Mosquito Bit tea once every other month to stop them from reappearing.
Spider Mites
Effect on the Plant
Spider mites also feed on the liquid stored inside plant leaves, so they leave behind very small white or yellow circles from their feeding on the leaves. The damage left by spider mites is often not noticeable until it is extensive – the on the plant will look speckled with a lighter coloration, and will often be limp. Spider mites also leave behind a small web made of very fine strands. hat can be seen between the leaves and stems of your plant.
Appearance
Adult spider mites are often too small to see with the naked eye. They look like tiny flecks of dirt and range in color from brown and red to white. They will move around if you watch for long enough. They usually gather on the underside of the leaves, nearer to the stem.
Solutions
Spider mites are attracted to dry and arid areas, so they are fairly common in Colorado houseplants. To stop an infestation from starting, you can spray or wipe your plants with diluted neem oil once every few weeks. Only spray in the early morning or in the evening to avoid burning your leaves. Check the leaves (especially the undersides) and stems regularly so you can catch them early if they decide to move in.
To treat an already started infestation, you want to:
First, quarantine any plants that show signs of spider mites.
Next, spray your plants' leaves with water using a sink, hose, or shower to remove most of the spider mites and their webs. During this process, be careful to not drench the soil – keep the stream aimed at only the foliage to avoid drowning your plant. If your plant has delicate foliage that will not stand up to being sprayed, you can gently dip the plant in water (only the leaves and stems, not the pot) and gently swirl to remove the spider mites.
Then, either spray or gently wipe diluted neem oil on to all of the leaves and stems of the plant. Apply the neem oil either early in the morning or late in the evening to avoid burning the leaves in any intense daytime light. Continue this treatment every 4 days, until all signs of spider mites have been gone for at least 3 weeks.
If the infestation persists, you can switch to a spinosad treatment. You can find these products at your local garden store. It is recommended that you use these products outside only unless the bottle is specifically marked for indoor use.
Always follow the directions for your safety and the safety of your family, pets and plants.
Once the infestation is gone (you have seen no signs of spider mites for at least 3 weeks), you can cut off any leaves that show spider mite damage so your plant has more energy for new, healthy growth.
Mealybugs
Effect on the Plant
Mealybugs also feed on the sugary sap within the leaves – they typically leave behind dark round circles on the leaves. Once the damage is extensive enough, the leaf will wilt and fall off. Mealybugs also leave behind a very fine white webbing that is often woven in tight spheres, making them look like small, plush, white balls.
Appearance
Adult mealybugs most often look like small white circles to the naked eye, however they can get large enough to see the definition in their many legs without a microscope. The larvae are very small and usually opaque yellow, and they are too small to be seen with the naked eye.
Solutions
Mealy bugs are attracted to soft plant matter, so they are usually found on plants that have been overwatered (causing the leaves to go soft). They are also attracted to high nitrogen levels, so over fertilizing your plants can attract them as well. Be sure to only water when your plant needs it, and have a well draining potting mix. Treating your plants and soil with diluted neem oil will also keep mealybugs away.
To treat an already started infestation, you want to:
First, inspect all of your plants carefully and quarantine any that show signs of mealybugs.
Next, you should remove all of the mealybugs you can see by using a Q-tip dipped in 3% rubbing alcohol. Throw away the removed mealybugs somewhere outside of your house.
Then, treat all affected plants with diluted neem oil every 4-7 days (depending on the severity of the infestation) for around 6 weeks.
Once the infestation is gone, remove all leaves that show signs of mealybug damage.
Always follow the directions for your safety and the safety of your family, pets and plants.
Scale Insects
Effect on the Plant
Scale insects feed on the sap found in the leaves and stems of houseplants, so they will leave small yellow or brown spots behind. They also excrete a sticky sap, that attracts ants.
Appearance
Adult scale looks very similar to the damage it leaves behind. They are small, circular and flat. It is common to confuse a scale bug with a the normal damage you would see on a healthy leaf or stem. You can try scraping the brown area off with your fingernail, and if it comes off easily and does not leave behind an open wound on the plant, it is likely scale. The adults are usually between 1/8″ to 1/4″ in size.
Solutions
Scale insects are very easy to mistake as a part of the plant, so it is important to inspect your houseplants often. Look for the sticky sap they leave behind or any increase in ants present around your plants.
To treat an already started infestation, you want to:
First, inspect all of your plants carefully and quarantine any that show signs of scale.
Next, you should remove all of the scale you can see by using your fingernail or a pair of tweezers. Try not to damage the surface of the plant too much during the removal process. Throw away the removed scale somewhere outside of your house.
Next, treat all affected plants with diluted neem oil every 4-7 days (depending on the severity of the infestation) for around 6 weeks.
Once the infestation is gone, remove all leaves that show signs of scale damage.
Always follow the directions for your safety and the safety of your family, pets and plants.
Aphids
Effect on the Plant
Aphids suck the sap of your plants and leave behind a sticky substance called honeydew. Sometimes the first sign of an infestation is an uptick in ants present on your plants because they are attracted to the honeydew. Aphids will often leave small holes behind in the leaves they have fed on.
Appearance
Adult aphids are some of the easiest pests to spot – but they are still quite small. Adults vary in color from dark brown and red to white or bright green. They can be seen without a microscope.
Aphid eggs are tiny, oblong and usually a light green or white color. They can be seen stuck on the underside of leaves, but are sometimes housed in a light gray casing that resembles dust or dirt.
Solutions
Aphids can come into the house through open windows or in contaminated soil and plants. To keep aphids from reaching your houseplants, be sure to thoroughly inspect any new houseplants or potting soil for signs of insect activity.
To treat an already started infestation, you want to:
First, inspect all of your plants carefully and quarantine any that show signs of aphids.
Next, spray your plants' leaves with water using a sink, hose or shower to remove most of the aphids. During this process, be careful to not drench the soil. Keep the stream aimed at only the foliage to avoid drowning your plant. If your plant has delicate foliage that will not stand up to being sprayed, you can gently dip the plant in water (only the leaves and stems, not the pot) and gently swirl to remove the aphids.
Then prune all of the affected foliage.
From here, there are a few effective options to stop the aphids from coming back.
Predatory insects – you can release ladybugs or green lacewings to control aphid populations. This is usually a more popular choice for those growing in outdoor greenhouses, but some do not mind having ladybugs in their house. Keep in mind, these predatory insects will die off once the aphids are gone.
You can also kill aphids with neem oil. Spray or wipe your plants thoroughly (tops and bottoms of the leaves and stems) with diluted neem oil every 4-7 days, depending on the severity of the infestation. You should treat until the aphids have been gone for about a month.
Always follow the directions for your safety and the safety of your family, pets and plants.
Understanding Garden Fertilizers
The Basics
What is Fertilizer?
Fertilizer is best described as plant food. It provides a plant with all the necessary micro and macro-nutrients it needs to grow. Like us, a plant without food will be able to survive for a while, but it will eventually require sustenance to thrive. It should be noted that compost and soil are different from fertilizers and your plants will not get enough nutrients from soil and compost alone.
Do I even need fertilizer?
The answer – if you live and grow in Colorado – is a resounding "Yes!" The soil in Colorado is naturally very nutrient-poor, and these nutrients are essential for healthy, vibrant gardens. Even if you are planting in a raised bed or container garden, fertilizer is necessary for successful gardening.
When should I fertilize?
Fertilizing should be done on a consistent basis while a plant is out of dormancy (whenever it is actively growing). Depending on the type of fertilizer you choose, you can feed your plants anywhere between every watering or two to three times throughout the growing season. It is very important to read and follow the directions and dosages on your fertilizer carefully.
Understanding Your Options
What are the numbers?
Every fertilizer is required to display three numbers. These numbers are called the NPK – (N) for nitrogen, (P) for phosphorus, and (K) for potassium. These numbers represent the guaranteed amount of each macronutrient present in the fertilizer. For example, a fertilizer labelled "4-6-2" has 4% nitrogen, 6% phosphorus, and 2% potassium.
What do these nutrients do?
Luckily, there is an easy way to remember the purpose each of these macronutrients serve: Up – Down – All-around.
Up – Nitrogen will encourage lush, leafy growth above ground
Down – Phosphorus helps with strong root establishment and blooms
All-Around – Potassium supports the plant's overall health and resistance to pests and disease.
Organic or synthetic?
There are pros and cons to both organic and synthetic products. Understanding them can help you decide what is best for your garden and gardening habits. Both organic and synthetic fertilizers will provide your plants with the same types of nutrients, and will not make a difference in the chemical make-up of the finished product.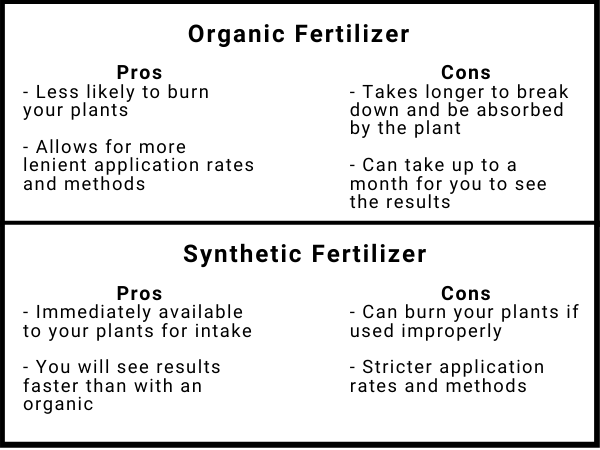 Making the Decision
What is the right choice for my garden?
First, you must ask yourself what you want out of your garden – are you hoping for vibrant colors and large blooms from your annuals and perennials? Lush, dark green coverage from your foliage? Enough home-grown veggies to fill the fridge and give out to the neighbors? Once you decide your goal, picking a fertilizer is easy.
For foliage and leafy veggies, choose a fertilizer with a high nitrogen number (the first number of your NPK). Nitrogen encourages a plant to produce a lot of leaves. This will help give your annual and perennial beds a full, healthy look and will allow your lettuce, kale, and herbs to produce the most leaves possible.
For flowers, flowering vegetables, and root vegetables, you should ensure a high amount of phosphorus (the second number in your NPK). This will help the plant establish a healthy, extensive root system and will encourage the biggest, brightest, and most blooms possible.
*For tomatoes, you want a high phosphorus number to encourage bloom count, but you also want to ensure your tomatoes get enough calcium. Providing your tomatoes with extra calcium during planting and throughout the growing season will protect them from blossom-end rot (a disorder caused by a calcium deficiency in the plant).
*Please note, adding eggshells to your soil will not aid in avoiding blossom-end rot as the calcium in eggshells takes upwards of six years to break down and become "digestible" to the plant. Many fertilizers labelled specifically for tomatoes will have added calcium that is immediately available to your plants.
Fall Perennial Planting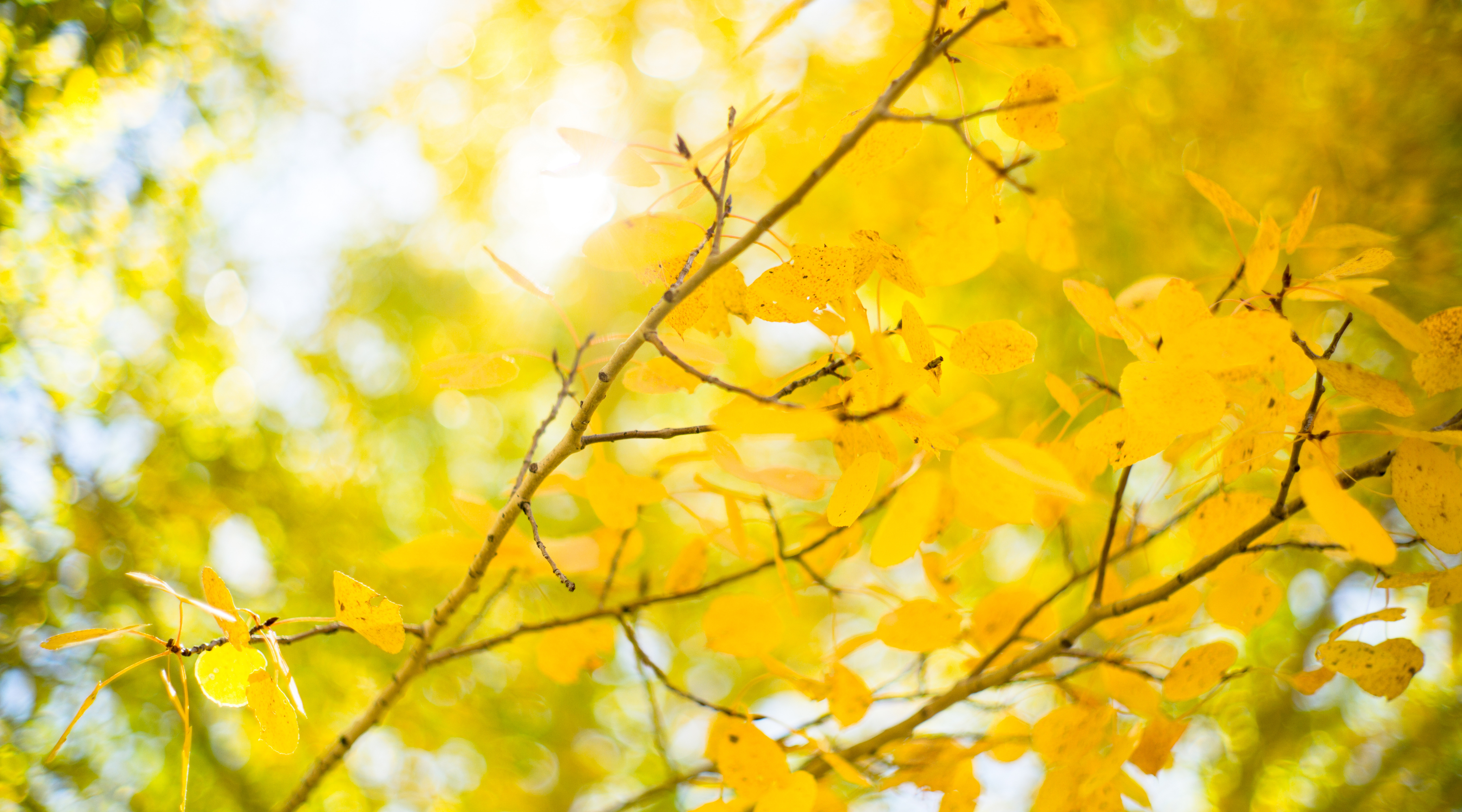 Planting in the fall can save you a lot of money while also giving plants a jump start next spring! Plants that establish strong roots during the fall will come back bigger and stronger in the spring time.
However, fall planting requires careful consideration and attention to detail from the gardener. The trick is to give fall plantings a little extra care to help them get established before the really cold weather sets in.
Here are four things you can do to help your plants get established:
Soil Inoculant
At the time of planting, be sure to use an inoculant specifically formulated for perennials, trees and shrubs. These products will help the plant to start establishing roots before all of the foliage dies back. We recommend using an inoculant over a root stimulator this late in the season so you can avoid giving any extra nitrogen to the plant before it goes in to dormancy.
Mulch
Mulch helps to retain soil moisture while also protecting roots from sudden changes in temperature. We recommend using 3″ of a good quality mulch to keep plants protected. Make sure that mulch does not contact the bark of woody perennials.
Protect Plants from Early Freezes
Keep an eye on the weather and cover the plants when the temperatures dip below freezing throughout September and October. This is most important for perennials. Trees do not need to be blanketed, but bark wrap should be used on all young trees to protect the trunks from splitting during our freezing and thawing cycles. When covering perennials, use heavy fabric or plastic and prop it up so that it is close to, but does not touch the plant (Plastic that touches the plant during a freeze can actually do more damage.) Be sure the covering goes all the way to the ground and cover the edges with soil or mulch so that it will trap heat from the soil.
Water
To support adequate root growth, plants will need to be watered regularly in the fall. Keep your soil evenly moist, but not soggy, through the fall time. Remember to monitor your plants regularly! A plant that crisps up due to lack of water in the fall time is not likely to survive the winter. When the plant goes dormant, they will require less frequent watering, but will also need to be watered throughout the winter. Remember that desiccation is the result of cold weather plus dry soil. For more details on winter watering, visit our Blog.