Rick's Deep Freeze Guide
In preparation for our first deep freeze coming this Sunday, Rick's Garden Center would like to remind our fabulous customers to take some steps beforehand to help your plant friends and tools out.
Water in outdoor trees, shrubs and perennials and cover root balls with mulch.  Do not mulch up to the trunk.  Moist soil conducts earth heat better than dry soil.  The mulch will help keep in the heat and protect the sensitive root ball.
Rose bushes, mulch up to the graft union at the base of the rose trunk. You can use a rose collar or just pile up mulch up to and above the graft union. The graft union will look like a bulging area on the main trunk just above the soil line.
Bring in any tropical plants, cacti or succulents that are not at least a zone 5 inside.
Check and move any plants that are blown on by heat vents. This will dry out the foliage in no time!
Outdoor trees, shrubs and perennials planted in pots should be insulated with burlap bags or mulch and placed against a south or west wall of your home. Avoid watering these before the freeze.
Water in newly established lawns and grass.
Go ahead and plant those mums you bought in the ground.. They may come back next year!
Disconnect and drain all hoses and drips lines from spigots
Cover newly planted bulbs with leaf, needle or straw mulch.
Blow out that sprinkler system!
After the freeze, you do not have to pull up all of the dead material, so that pollinators and other insects have a place to overwinter.
Bare Root Fruit Trees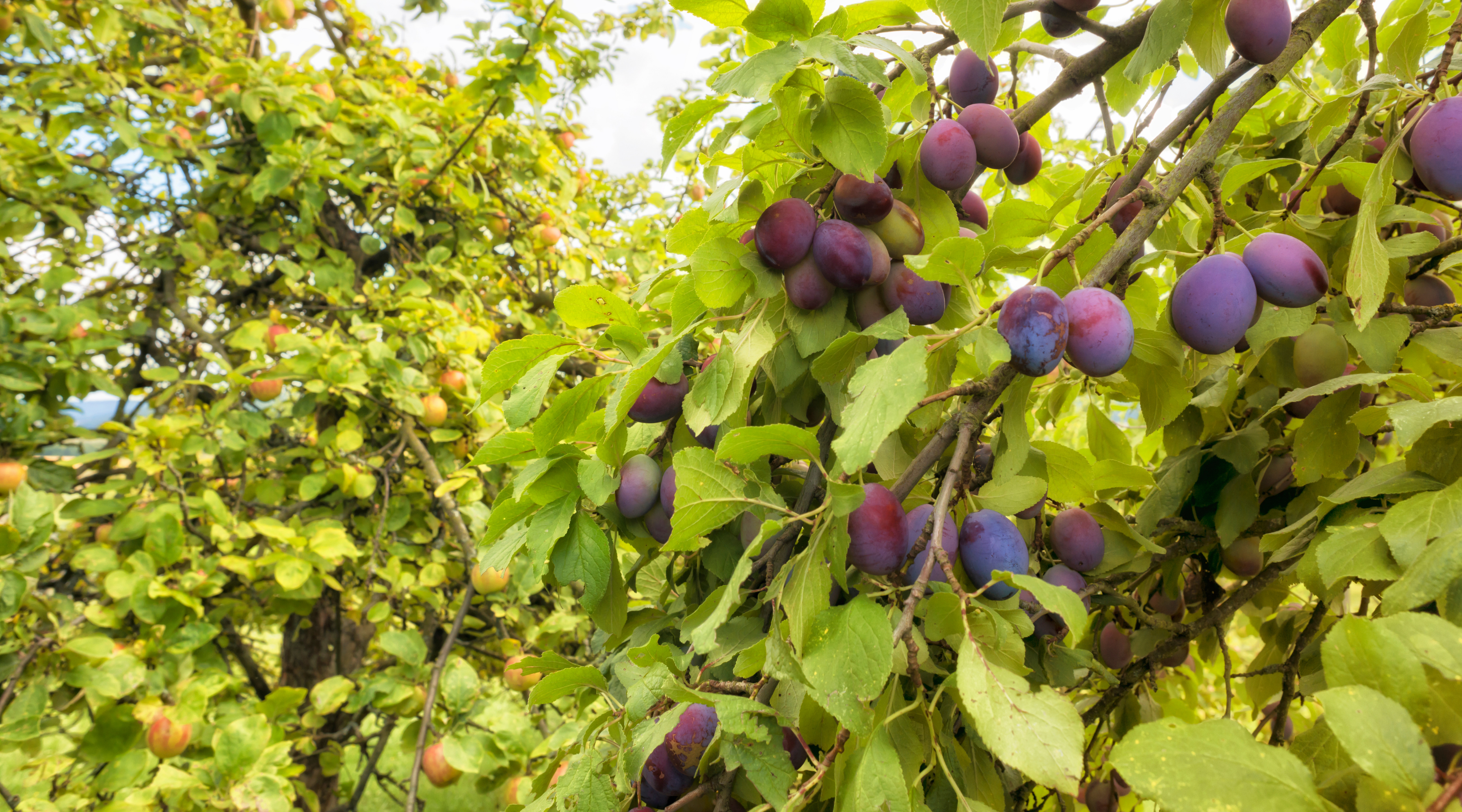 What are bare root trees?
Bare root trees are harvested from their growing beds in the late fall, and the soil is removed from their roots. They are kept in cold storage over the winter, and planted before they break dormancy in the spring.
What are the advantages of planting bare root trees?
Improved Tree Health
Bare root trees are not grown in a container. This eliminates the industry-wide problems of circling and girdling roots that develop in container-grown stock, a major threat to even healthy-looking plants. Also, since bare root trees are planted early in the spring before they leaf out, the trees get a head start on developing strong root systems in the native soil before they start producing leaves, flowers, and fruit.
Light Weight & Reduced Environmental Impact
Bare root trees are much lighter when shipped. This saves on freight and fuel and makes them easier to maneuver while planting.
More Cost Effective
Shipping bare root trees is much less expensive, and that savings is passed directly to the customer. Our trees will be comparable in size to a #5 container tree, but for half the price! (All trees will be a minimum of 5/8th inch caliper.)
We are excited to offer bare root fruit trees at Rick's this spring! We are working hard to bring you the best fruit trees possible.
Excellent Quality
The bare root fruit trees we are selling will be of superior quality! We chose to source these trees specifically from growers who supply professional orchardists. Van Well Nursery is based in Washington state and works with several orchards in the Palisade, Colorado area. They have an excellent reputation among professional growers, and we're excited to offer that level of quality in Colorado Springs! We have consulted with Van Well to bring you the best in bare root fruit trees for our local climate.
Exceptional Rootstock
Since their seed is not true to type, fruit trees are produced from cuttings. Many species of apples, pears, and plums do not root easily from cuttings, so they are grafted onto rootstock grown specifically for this purpose, a practice dating back over 2,000 years.
When purchasing any fruit tree, it is important to inquire about the quality of the rootstock. For our bare root trees, all apples are grafted onto EMLA 7 rootstock. This rootstock is semi-dwarfing, meaning each variety will grow about 50-60% smaller than typical, which is perfect for backyard orchards. This rootstock was chosen for its cold hardiness and extreme resistance to fireblight. The plums are grafted onto a peach seedling rootstock.
Interesting Varieties
This year, Rick's will have eight kinds of apples and two kinds of plums to choose from. We will have heritage apples like Macoun and Yellow Newton, and some new arrivals like Ambrosia and Gale Gala. We even have an apple variety that's used for cider, Yarlington Mill, which arose from a chance seedling discovered in 1898! The plum varieties are both European plums and are very cold hardy.
It should be noted that all apples need another apple (or fruit-bearing crabapple) of a different variety to cross-pollinate. Both types of plums that we carry are semi self-fruitful, but they will bear a heavier crop with a different plum cultivar nearby to cross-pollinate. The two plum varieties we will be carrying will cross-pollinate with each other very nicely. For fruit trees to cross-pollinate, they should be planted within 100 feet of each other.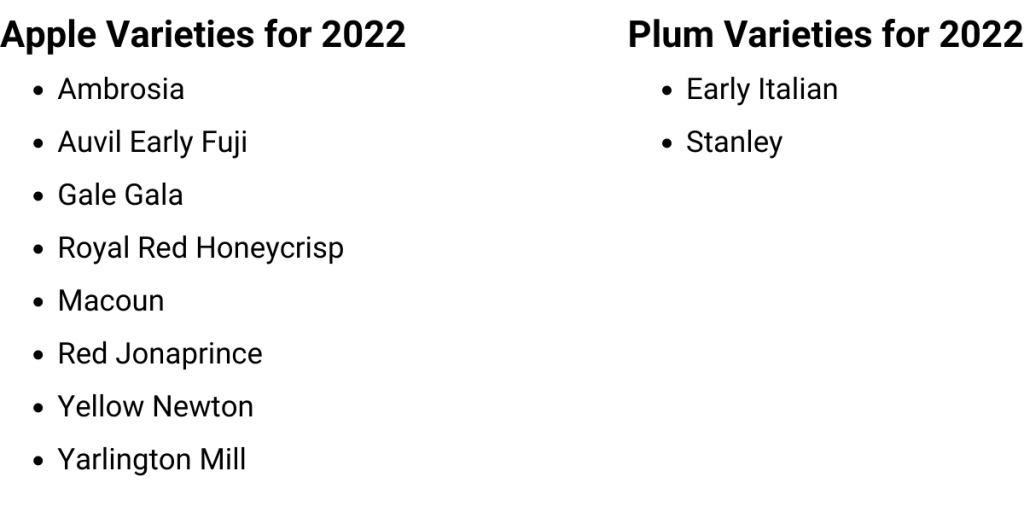 Cost and Availability
Each bare root tree will be $39.99 and will be sold on a first come, first served basis.
The trees will be arriving in early March, weather permitting. We will continue to sell the bare root trees until they start to break bud, most likely in early April.
If you would like to be notified when the bare root trees become available, please email us at info@ricksgarden.com or call the store at (719) 632-8491 to be put on our notification list.
Timing and Handling
Timing is important when purchasing and planting bare root fruit trees. Bare root trees can only be planted in the early spring. Bare root trees that are planted after they leaf out have a much lower survival rate.
Proper handling is crucial for bare root stock. Roots should never be allowed to dry out – even five minutes of sun exposure on a warm day can do life-threatening damage to the tree. When you purchase a bare root tree from Rick's, you will be provided with a burlap sack and wet mulch (or other means) to protect the roots during transportation.
The tree should be planted as soon as you get home from the nursery. If you will not be able to plant the tree immediately, please talk to our nursery staff so they can advise you on proper storage procedures.
Planting
Planting bare root trees is very similar to planting trees that have been grown in containers. The most important thing is to not plant too deep; you should have a structural root within the first one to two inches of soil. Amend soil to a maximum ratio of one part compost to four parts native soil. Cover the planting area with three inches of mulch, taking care to not contact the trunk. Staking may be necessary depending on root spread, soil type, and wind exposure.
Protection
Young trees that are small in diameter are the perfect size for deer to rub their antlers on. If deer graze in your neighborhood, cage trees immediately after planting. Trees left unprotected for even one night can be terminally damaged by deer.
For additional tree planting resources, please visit:
Tree & Shrub Planting Guide by Rick's Garden Center:
The Science of Planting Trees by CSU Extension: https://cmg.extension.colostate.edu/Gardennotes/633.pdf
Understanding Garden Fertilizers
The Basics
What is Fertilizer?
Fertilizer is best described as plant food. It provides a plant with all the necessary micro and macro-nutrients it needs to grow. Like us, a plant without food will be able to survive for a while, but it will eventually require sustenance to thrive. It should be noted that compost and soil are different from fertilizers and your plants will not get enough nutrients from soil and compost alone.
Do I even need fertilizer?
The answer – if you live and grow in Colorado – is a resounding "Yes!" The soil in Colorado is naturally very nutrient-poor, and these nutrients are essential for healthy, vibrant gardens. Even if you are planting in a raised bed or container garden, fertilizer is necessary for successful gardening.
When should I fertilize?
Fertilizing should be done on a consistent basis while a plant is out of dormancy (whenever it is actively growing). Depending on the type of fertilizer you choose, you can feed your plants anywhere between every watering or two to three times throughout the growing season. It is very important to read and follow the directions and dosages on your fertilizer carefully.
Understanding Your Options
What are the numbers?
Every fertilizer is required to display three numbers. These numbers are called the NPK – (N) for nitrogen, (P) for phosphorus, and (K) for potassium. These numbers represent the guaranteed amount of each macronutrient present in the fertilizer. For example, a fertilizer labelled "4-6-2" has 4% nitrogen, 6% phosphorus, and 2% potassium.
What do these nutrients do?
Luckily, there is an easy way to remember the purpose each of these macronutrients serve: Up – Down – All-around.
Up – Nitrogen will encourage lush, leafy growth above ground
Down – Phosphorus helps with strong root establishment and blooms
All-Around – Potassium supports the plant's overall health and resistance to pests and disease.
Organic or synthetic?
There are pros and cons to both organic and synthetic products. Understanding them can help you decide what is best for your garden and gardening habits. Both organic and synthetic fertilizers will provide your plants with the same types of nutrients, and will not make a difference in the chemical make-up of the finished product.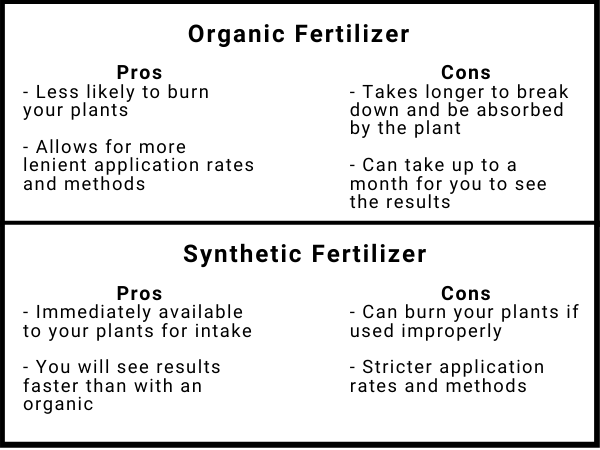 Making the Decision
What is the right choice for my garden?
First, you must ask yourself what you want out of your garden – are you hoping for vibrant colors and large blooms from your annuals and perennials? Lush, dark green coverage from your foliage? Enough home-grown veggies to fill the fridge and give out to the neighbors? Once you decide your goal, picking a fertilizer is easy.
For foliage and leafy veggies, choose a fertilizer with a high nitrogen number (the first number of your NPK). Nitrogen encourages a plant to produce a lot of leaves. This will help give your annual and perennial beds a full, healthy look and will allow your lettuce, kale, and herbs to produce the most leaves possible.
For flowers, flowering vegetables, and root vegetables, you should ensure a high amount of phosphorus (the second number in your NPK). This will help the plant establish a healthy, extensive root system and will encourage the biggest, brightest, and most blooms possible.
*For tomatoes, you want a high phosphorus number to encourage bloom count, but you also want to ensure your tomatoes get enough calcium. Providing your tomatoes with extra calcium during planting and throughout the growing season will protect them from blossom-end rot (a disorder caused by a calcium deficiency in the plant).
*Please note, adding eggshells to your soil will not aid in avoiding blossom-end rot as the calcium in eggshells takes upwards of six years to break down and become "digestible" to the plant. Many fertilizers labelled specifically for tomatoes will have added calcium that is immediately available to your plants.
Growing Garlic in the Pikes Peak Region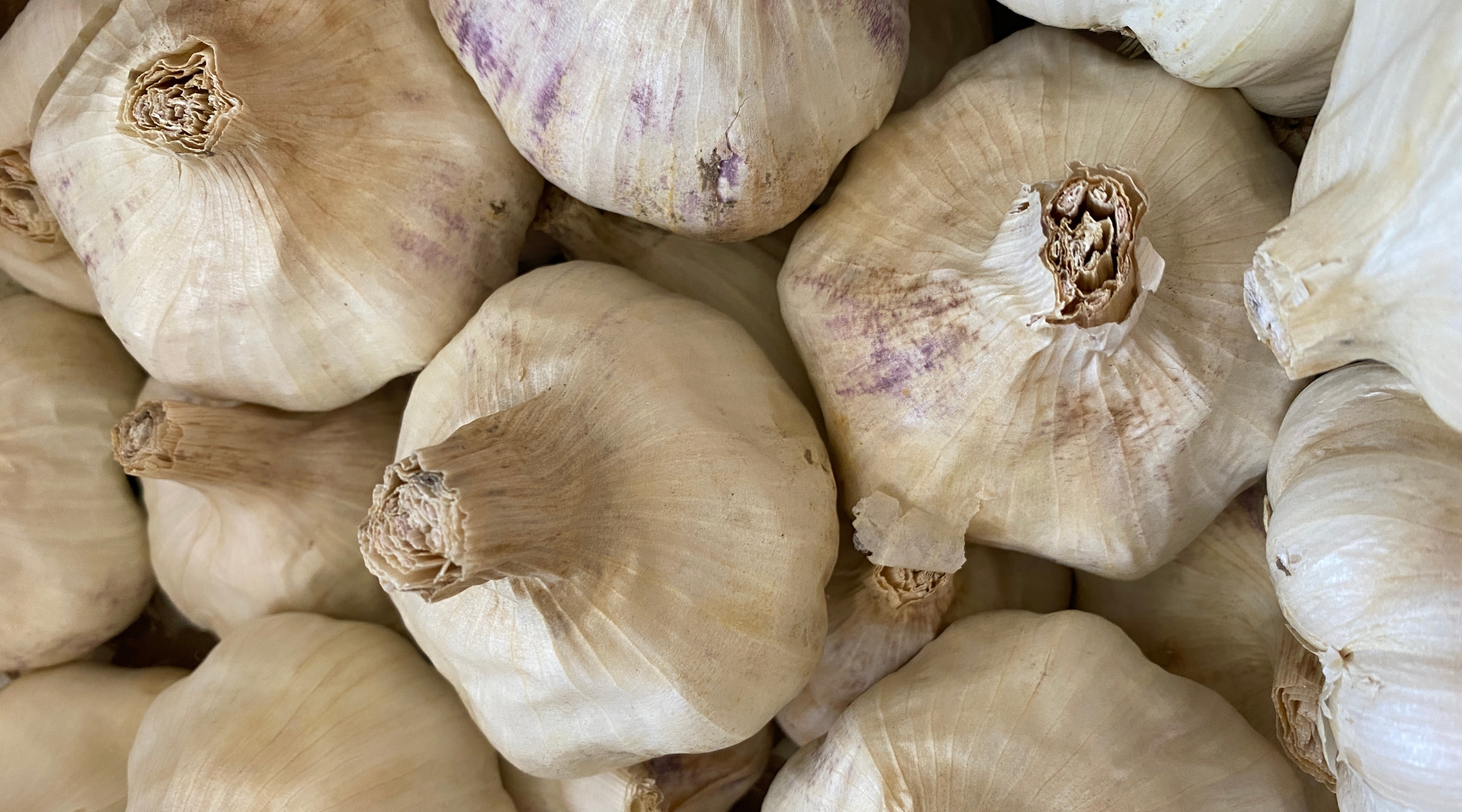 Garlic is a crop that is fun to grow and does best when planted in the fall. There are many interesting varieties, so take your time choosing a variety that suits your taste and cooking preferences.
When to Plant Garlic
Garlic grows best in the Pikes Peak Region when planted in the fall – typically in late October – when the soil temperatures are too cool to cause the garlic to sprout but still warm enough to allow the bulb to establish some roots before going dormant for the winter.
Choosing a Garlic Variety to Plant
There are two main subspecies of garlic: hardneck and softneck. Hardneck varieties are most similar to wild garlic and also produce a delicious flowering stalk, known as a scape, that can be eaten raw or cooked. Hardneck varieties tend to be more flavorful, have larger cloves, and are easier to peel. Hardneck varieties may be purple, purple striped or white. Each cultivar has a distinctive flavor ranging from mild to very hot. Softneck varieties do not produce a flowering stalk, but they can be braided. These varieties typically produce bulbs with 10 to 40 smaller cloves. Softnecks have a longer shelf life than the hardneck varieties, making them popular with grocery stores.
Soil Preparation
Garlic is best grown in a well-drained soil as it won't tolerate wet feet. Garlic thrives in soil that is high in organic matter, so a raised bed is an ideal location for growing it. Be sure to amend the soil with well-rotted manure or preferably a quality compost. If possible, spread 1 to 2 inches of compost over the entire planting area and work it into the first few inches of soil. As with most garden crops, garlic grows best when the soil pH is between 6 and 7. If you amend the soil with manure or compost before planting, no further fertilizer is needed until spring. Garlic should not be planted in the same spot year to year; the crop should be rotated.
How to Plant, Harvest & Store Garlic
Garlic cloves are best planted between November and April, although you will generally get a bigger and better crop if you plant in the autumn. If planted between October 1 and November 15, the clove will have a chance to develop some roots before it goes dormant for the winter. Here at Rick's, we think the ideal time to plant is at the end of October.
Separate cloves from the bulb and plant root side down (pointed side up) about 2-4 inches deep, 6-8 inches apart in the row and 12-18 inches between rows. A bulb planter used for tulips and daffodils is an excellent tool to get several cloves planted quickly.
Mulching 6-12 inches of straw or mulch in mid to late November, when the ground begins to freeze, will ensure the garlic will survive the cold temperatures.
In early spring as the ground thaws, look for the green tips beginning to emerge underneath the you mulch.
Fertilize in spring with a complete fertilizer such as 10-10-10 (3 lb per 100 sq. feet), or an organic complete fertilizer at roughly twice the rate, as usually they contain roughly half the nitrogen as chemical fertilizers.
As half of the leaves begin to die-back in July, harvest the garlic by gently pulling on the stalk while prying beneath the bulb with a trowel. The clove you planted last fall will have turned into a multi-cloved bulb. Gently shake off the dirt but do not wash before storage. Don't wait until all the leaves have died-back or your bulbs will not store well.
Cure the garlic by hanging in a warm, dry, well ventilated place.
Give the bulbs another shake after two weeks of curing to remove more soil, cut off the stalks of hardneck varieties and store them in a cool, dry place. For softneck varieties, you can leave the stalks attached if you wish to braid and hang them for ease of use and aesthetics in the kitchen – but you may also cut off the stalks and store them with the hardneck varieties.
Save some of your biggest bulbs for planting next fall.
Varieties Available at Rick's for Fall 2021 Planting
All of our seed garlic is locally grown in Avondale, CO and is certified organic.
Metechi
garlic is a hardneck with a robust flavor and sharp bite. One of the hottest garlics raw, cooking tones down heat while keeping tons of flavor. One of the best garlics for roasting.  Easy to peel, long-storing.
Pueblo Early garlic is an artichoke variety softneck derived from California Early. Medium tame flavor, very large heads, good all-purpose garlic. Very adaptable. Stores until spring under cool, dry storage conditions.
Inchelium Red garlic is a softneck artichoke variety, once the softneck variety winner for best flavor. Mild buttery flavor at harvest, flavor increases with storage to mild heat. Properly cured, may store up to 10 months..
Silverwhite garlic is a softneck variety, typically the last to mature each season and stores the longest. Richly garlic flavor. High yields of large, mild-flavored bulbs. Popular softneck in grocery stores and for braiding.