Rick's 2023 Winter Reading List
By Katherine Placzek
Winter is the perfect time to curl up with a book. Our staff has accumulated our favorite plant reads so you can get a stack of books from the library or your favorite local bookstore. All you need is a blanket and to start the tea kettle!
---
Plan a Colorful Garden for our Rugged Terrain:
Pretty Tough Plants:135 Resilient, Water-Smart Choices for a Beautiful Garden
by the Experts at Plant Select
Plant Select, the country's leading brand of plants designed to thrive in high plains and intermountain regions, wrote the book on hardy high desert gardens- literally! This book will help you make a list of plants to seek out when it warms up. With amazing photos, each plant is described with specifics that are important for garden design, such as growing zones and light requirements. The selected plants include perennials and annuals, groundcovers, grasses, shrubs, and trees. Drool over each page, and complete your winter garden dreaming with this essential book!
---
Relish Edible Garden Designs:
Groundbreaking Food Gardens: 73 Plans That Will Change the Way You Grow Your Garden
by Niki Jabbour
Based on actual gardens designed by celebrated gardeners and renowned landscapers, each of these 73 gardens offers unique solutions for your own garden. The garden layouts are illustrated, and list the edible plants included. You will find a pepper garden with over 24 pepper varieties, a garden that is in harmony with a chicken coop as its central feature, a cocktail garden, a balcony garden, and so many more niche ideas. Regardless of your space or experience, you will find something that will be new and exciting to you! Explore new species of eggplants, climbing tomatoes, edible flowers, and a plethora of ways to showcase the bounty in your vegetable garden.
---
Live an Insect's Perspective:
The Bees
by Laline Paull
Throughout this novel, you will fall in love with the main character, Flora-717, a female bee in a honeybee colony. While scientific in many ways, it is a suspenseful and fantastical story in its own right. Experience predatory insects, pesticides, birds, weather, seasonal changes, human interactions, and the hive mentality from the perspective of a worker bee. The Bees will change how you view the life of a honeybee!
---
Drool Over Houseplants:
Plantopedia: The Definitive Guide to Houseplants
by Lauren Camilleri & Sophia Kaplan
This is a wonderful introductory guide for the houseplant enthusiast! 130 plants including foliage plants, succulents, and cacti are profiled. While as educational as a textbook, this book also doubles as a coffee table book due to its incredible images! You will be able to keep your houseplants happy and vibrant after reading this informative book. Plantopedia is a great gift for any houseplant lover!
---
For the Fledgling Plantswoman:
The Earth in Her Hands: 75 Extraordinary Women Working in the World of Plants
by Jennifer Jewell
If you are inspired by seeing other individuals who are molding the future of the plant world, check out this beautiful book. 75 women are interviewed on their backstory of how they debuted in the plant world. Each individual is given a multi-page spread, and vivid pictures are included. You will meet nursery owners, photographers, vegetable farmers, flower farmers, activists, researchers, florists, plant breeders, seed collectors, and a myriad of other professionals.
---
A Mystery that Involves a Plant Poisoning:
A Botanist's Guide to Parties and Poisons
by Kate Khavari
This lighthearted mystery introduces you to the world of Saffron Everleigh, who has just become a research assistant at the University College of London during the early 1920s. Plant lovers will enjoy the scenes located in various gardens, arboretums, and greenhouses. After a poisoning occurs, our fearless heroine is caught in the middle since her mentor is the main suspect. She undertakes the task of clearing her mentor's name with her dashing sidekick, Alexander Ashton. This is the first book of a series, so feel free to get emotionally attached to the characters.
---
Calling All Beginning Vegetable Gardeners: 
The Kitchen Garden: A Month by Month Guide to Growing Your Own Fruits and Vegetables
by Alan Buckingham
This book is a great foundation for beginner and intermediate vegetable gardeners. The author provides you with detailed crop planners, indicating when to sow and how to care for more than 60 veggies, herbs, and fruits. Every month is broken into tasks. Discussion on growing zones occurs, so you can acclimate to the monthly tasks based on your region. Basic composting, Hugelkultur, and crop rotation processes are also covered. The author shares tips on maximizing your garden plot if sloped or uneven terrain is a concern, which is common in this area. Buckingham especially trains you in gardener's foresight strategies. Get your feet wet and your hands dirty with this book!
---
A Gardener's Contemplation:
Second Nature: A Gardener's Education
by Michael Pollan
This was one of Michael Pollan's first published books. If you know him as a food writer or culture shifter, reacquaint yourself with him as a gardener. His amusing stories have a retro feel due to their publishing year but are still relevant to how societal norms influence our lawns, yards, and gardens. He talks about the dichotomy between the wilderness and a garden. The book makes you consider the role that your yard plays in this conversation.
---
How to Start a Flower Farm:
Floret Farm's Cut Flower Garden: Grow, Harvest and Arrange Stunning Seasonal Blooms
by Erin Benzakein with Julie Chai
In Erin Benzakein's debut book, you will be absorbed by the gorgeous photographs of colorful flowers, and her thoughtful design. Benzakein's generous spirit shines through, as she guides you from a beginner's understanding into the intricacies of large-scale cut flower farming. While reading the book you will learn about helpful tools of the trade, planting/care staples, the harvesting processes, and the art of flower arrangements. Soon enough, you will be dreaming of dahlias, zinnias, poppies, daffodils, anemones, ranunculus, and more!
---
A Throwback:
Silent Spring
by Rachel Carson
Initially released in 1962, this book helped the public understand the impact of pesticides. Rachel Carson, an American biologist, writer, and conservationist, researched the impacts of post-World War II pesticides, including DDT on songbird populations. Through the publication of this book, her audience was able to push for a nationwide ban on DDT. If you are able to pick up a physical copy, the illustrations are exquisite! The images were drawn by Lois and Louis Darling. Naturalist Sir David Attenborough expressed Silent Spring as a book that has changed the scientific world- a classic read for any gardener! 
---
A Reason to Plant Natives:
Nature's Best Hope: A New Approach to Conservation that Starts in Your Yard
by Douglas W. Tallamy
Written by Dr. Douglas Tallamy, a professor in the Department of Entomology and Wildlife Ecology at the University of Delaware, this book will convince you to plant native plants in your yard. Tallamy explains why various insect larvae are keystone species, especially for bird populations. The book details how the landscape is changed when invasive or non-native plants are incorporated, and how natural food sources for wildlife are erased. This can be changed easily by planting native plants that provide dense nutrition as well as protective habitat corridors within the urban setting. Native plant guides and resources are provided throughout the book. Overall, a convincing and empowering read.
---
Learn to Garden on a Shoestring:
The Dirt Cheap Green Thumb: 400 Thrifty Tips for Saving Money, Time, and Resources as You Garden
by Rhonda Massingham Hart
This little book is chock full of clever ways to garden! The author is frank on how to save money while building a beautiful and productive garden. Enjoy humor and advice on the best ways to stretch your dollar, from starting seeds to preserving produce. The author explores all gardening, including edible and ornamental. Even seasoned gardeners will find resourceful tips in this helpful guidebook.
---
Summer 2024 tomato Variety List
In our newsletter we mentioned Rick's would soon release our 2024 tomato list and we are excited to reveal it to you now! Inspired by Good Earth, we want to grow strong, and flavorful tomatoes of numerous varieties for next summer. Tomato seeds and plugs will be organic, while any shipped in from growers will be grown sustainably. The list below is what we will feature this summer if all goes according to plan!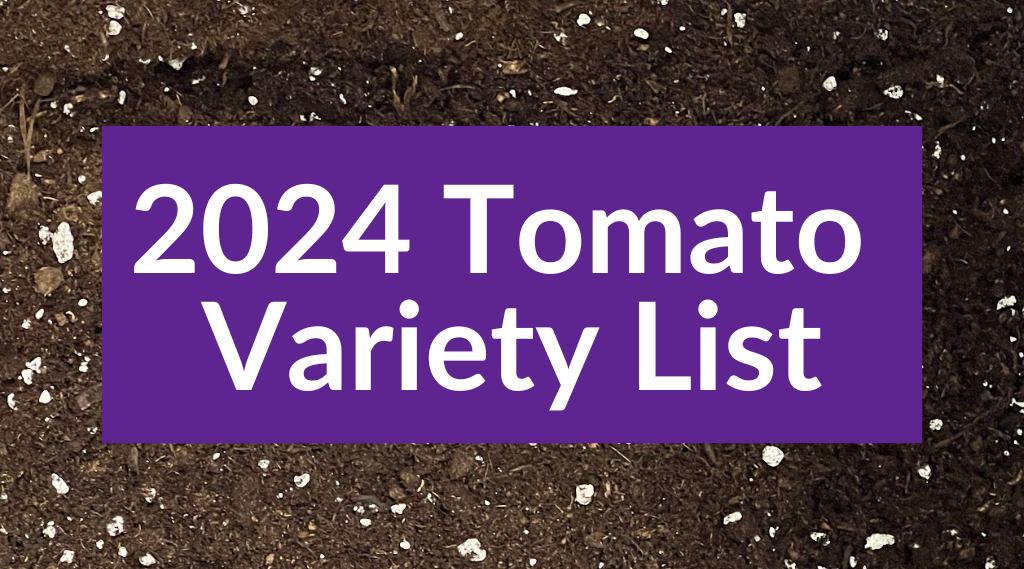 Rick's Garden Center Bare Root Fruit Trees 2023
Great news for backyard orchardists- our bare root fruit trees just got confirmed for Spring 2023. This will be our second year offering bare root trees in the nursery. For those not in the know, bare root trees are sold, as the name suggests, without any soil on the roots. There are numerous benefits of planting bare root, but time is of the essence as far as purchasing, handling, and planting are concerned. If you missed our blog post from last year, check [here] for a great rundown on what bare root trees are, how to handle and plant them, and a lot of other great information. Here's a brief rundown of some important information you can find there:
Why Bare Root?
Improved tree health- no circling or girdling roots, easier transplant
Reduced weight- less gas used, less expensive shipping, easier handling/planting
Cost effective- roughly ½ the price of similar-sized container trees. All varieties will be $48.99, tax free (that's right- you pay with a $50 bill, we'll give you back a dollar and a penny in change.)
When are they available?
This depends largely on weather- trees should be arriving in early April. All bare root trees are sold on a first come, first served basis. Sales end when trees break dormancy–usually in late April–which necessitates their immediate planting. If you'd like to be notified when they arrive, please email info@ricksgarden or call the store at (719) 632-8491.
We've made some tweaks to our available varieties, and I'd like to take the time and share them with you. We have some varieties I'm confident you won't find anywhere else.
Ambrosia Apple
This variety arose from a chance seedling discovered in British Columbia. This is one of the newest varieties available at Rick's nursery, and has a sweet, juicy, aromatic fruit. This apple boasts beautiful color, long storage time, and once cut is slow to brown due to its low acidity.
Auvil Early Fuji Apple
This sport has all of the things you love about Fuji apples, and is ready for harvest six weeks earlier, making this apple a great option to spread out your harvest time. Discovered by Grady Auvil, a renowned Washington orchardist. Complex in flavor with a dense, crisp flesh.
Gale Gala Apple
This exclusive, improved Gala strain is noted for its beautiful, deep red color. Available only through VanWell nursery, our distinguished wholesale grower. Similar in taste and texture to Royal Gala making it good for both fresh eating and preserving, and perfect for desserts.
Royal Red Honeycrisp Apple
Everyone's favorite apple now comes with better storage time and improved color. The perfectly snappy, crisp texture and sweet, slightly tart profile explain this apple's overwhelming popularity. A versatile, hardy, and in-demand apple.
Red King Red Flesh Apple
New this year to Rick's nursery, this apple has the unique feature of dark red flesh- even the juice is pink! Brilliant red skin, beautiful pink flowers, and an irresistible crunch are other qualities of note. This tree is triploid, which means that its pollen is sterile and will not pollinate other apples. For those interested in only the most unique apples, this variety is sure to please.
Red McIntosh Apple
It's hard to think of a more classic apple than the McIntosh, whose popularity has been holding steady for more than 200 years. Perhaps also the poster child of the "all-purpose" apple, this variety has impeccable range as fresh, baked, preserves, cider, and many other applications. A supremely hardy, reliable producer.
Yellow Newtown Apple
The oldest heritage apple available through our bare root program, the Yellow Newtown (also called Newtown Pippin) originated in the late 17th century. Regarded as a winter apple due to its impeccable storage time, its flavor actually improves after harvest. As Thomas Jefferson said while visiting Paris, "they have no apples here to compare with our Newtown Pippin."
Benton Cherry
This sweet cherry does it all: it is self-fertile (does not require a pollinator), late-blooming (to avoid early Spring frosts), semi-freestone (easy to pit), and has a gorgeous carmine color. A reliable producer with large fruit, its taste is superbly sweet with just enough acidity to make it perfect for fresh eating and also baking and preserves.
Early Italian Plum
This self-fertile plum is rich in flavor and ripens sooner than regular Italian plums, a boon to those of us with a short growing season. Another versatile "all-purpose" variety that is good right off the tree as well as in the kitchen. Tree features smaller stature and fragrant blooms.
Thanks for reading! We hope to see you in the nursery this Spring. We open our doors mid-April, but we have staff on board all year long to aid you in your gardening quest. Happy planting!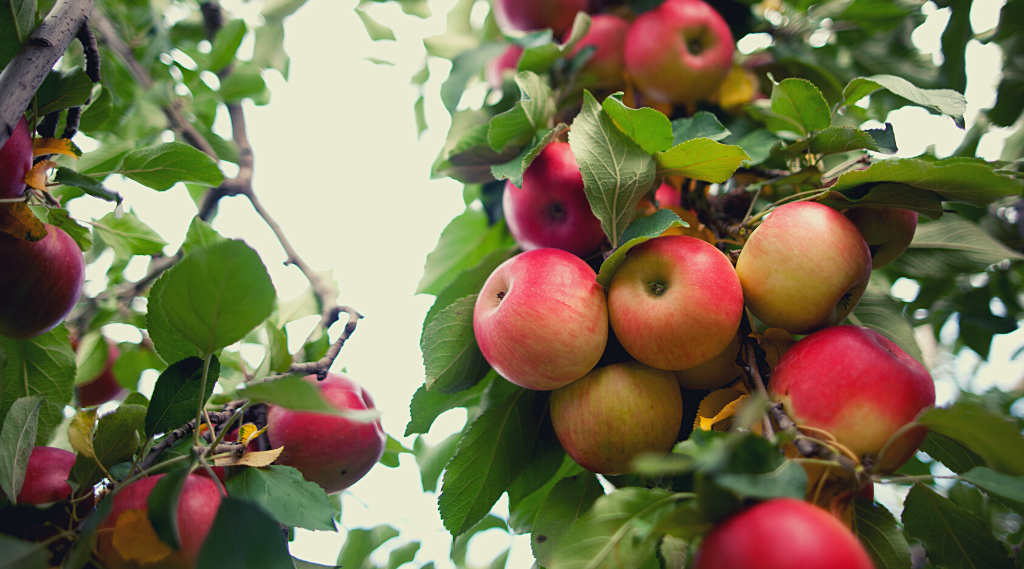 Come Meet Our Geckos!
Here at Rick's Garden Center, we'd like to introduce you to our two new special guests living within the store: Mist and Jupiter! Mist and Jupiter are geckos, Mist being a female common Leopard gecko and Jupiter being a male crested gecko. They each live in separate terrariums, featuring plants similar to those found within their indigenous landscapes. They can be found in the houseplants section here at Rick's Garden Center.
Jupiter's home consists of a jungle within a vertical tank, as crested geckos dwell in trees and canopies of tropical environments. These lizards are native only to southern New Caledonia, making his appearance here at our store all the more special! Like most crested geckos, Jupiter enjoys hiding within the dense foliage of his terrarium and sleeping due to his species' nocturnal tendencies. Crested geckos often will lose their tails in events they feel threatened and unlike many lizards, are unable to regrow them. Hence, we leave it to the professionals to handle Jupiter. You will often see him outside of his tank with his owner, Lie.
Mist is the other gecko and she lives in the desert terrarium. Her enclosure is rocky and warm, replicating the environments her species originate from in the Middle East. Mist however is less frequently within her home than Jupiter is and instead she often accompanies Rick's workers on their daily routines. She helps out mostly upstairs by the registers or within the houseplant and succulent rooms, tagging along with Rick's workers by clinging to their arms or shoulders.
Please come in anytime and say hello to Mist and Jupiter, they'd be excited to meet you. And if you're not a reptile person that's okay-our most frequent customer, the cat Lucius, comes by at least once a day to the store. Happy gardening!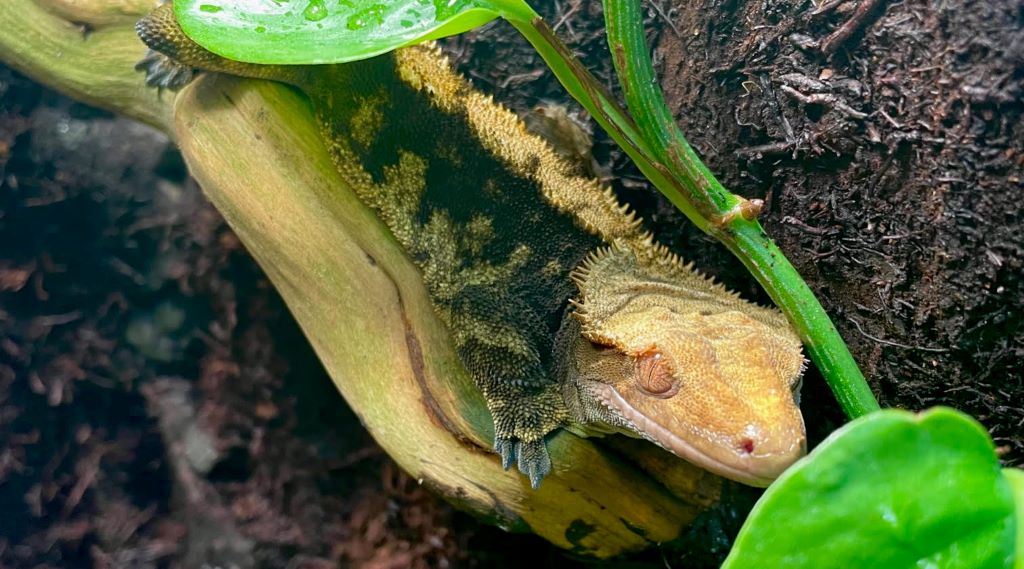 Too Deep in Love: Two Common Killers of Freshly Planted Trees
Trees are the cornerstones of our landscapes. No other kind of plant impacts the local ecosystem as broadly and effectively as trees; they create shady, cool microclimates, provide erosion control with their expansive roots, and supply habitat and food for many creatures. Planting trees is not difficult, but with their slow growth and considerable price, it pays to get it right the first time. Here are two common problems we see with freshly planted trees at Rick's Nursery.
The most common and fatal error in planting trees is burying the root ball too deep. It only takes a few inches of soil on top of the root ball to smother it. When you plant your tree, take it out of the pot, then lightly brush off the loose soil on top-assume that the tree was never planted at the correct depth in the pot by the nursery that grew it. Then, after you finish planting the tree, you should still be able to see the top of the potting soil. In areas of poor soil drainage, it may be appropriate to leave the "shoulders" of the root ball as much as 2 inches above grade. Top with mulch to prevent the surface roots from drying out, but be careful not to contact the trunk. It will look wildly incorrect when created for the first time, but it is essential to the plant's health. When you plant too deep, you starve the roots of oxygen, and the tree is prone to dying within the first 2-7 years of planting. Once you start observing trees, you may even begin to notice mature ones that are planted too deeply; trees should never look like a telephone pole sticking out of the ground, there should always be a distinct root flare. If you have already planted your tree too deep, you can carefully excavate by hand around the root flare to expose it. You can even mitigate too-deep planting in mature trees, though care should be taken not to damage roots. Just carefully remove the soil until you find the root flare, then mulch.
Our soil in most parts of Colorado is notoriously poor. Whether you have sand, clay, or just decomposed granite on bedrock, amending your soil with organic matter can solve several soil problems. We often forget, however, that in life and gardening, moderation is key. When you amend the backfill of your planting hole, you should use a maximum ratio of 1 part compost to 4 parts native soil. When you amend by more than 20% organic matter, you risk "containerising the hole." This happens when you over-prepare the backfill of your planting hole; the roots of your tree are content with the fluffy, rich soil, and never establish outside the new hole. This creates circling roots and other problems associated with container trees, thus "containerising the hole." Trees whose soil is over-amended are more prone to overwatering because the soil holds on to excess moisture. Trees may also begin to sink and list to one side as the extra compost decomposes and shrinks in volume, especially when the compost is dug under the root ball. Thus, the bottom of your planting hole should always be firm, unamended soil. Fresh compost should never contact the roots directly and should be mixed thoroughly into the backfill soil. Depending on what kind of tree, and the soil condition, it might be wisest to skip amendment altogether, and just let the wood mulch on top do the soil work. Generally, though, just a dab of compost will do the trick. Ultimately, we gardeners see soil amendment as an act of caring; just make sure not to love your tree to death.
Nothing makes us happier at Rick's Garden Center than seeing your nursery plants thrive. For more information on planting, see our Tree and Shrub Planting Guide, available on our website. Happy planting!
Small Pot Sizes, Mighty Plants
Here in the nursery at Rick's Garden Center, we tend towards smaller pot sizes. In the nursery business, pots are sized according (loosely) to their volume in gallons. A #5 pot, therefore, holds roughly 5 gallons of soil. It should be noted that these sizes are not standardized; a #5 pot can be anywhere from 3.4 to 5.4 gallons. Our shrubs are typically in the #2 to #5 pot size, and our trees tend to be #5 to #15. These sizes are smaller than what some other nurseries offer, especially in trees. There are a handful of good reasons for this, and I'd like to explore those with you now.
First is affordability. Smaller-sized pots hold smaller plants, and smaller plants cost less. The less I spend on any one plant, the more plants I can buy. It's important to us at Rick's to get plants into the hands of as many people as possible, and keeping our nursery stock small in size helps us accomplish this. Smaller pots even pay off in sweat equity; a smaller rootball means a smaller hole to dig and much less weight to move around. Planting small can save both your wallet and your back.
Another reason has everything to do with establishment. Establishment is the magic moment when your plant reaches outside its root ball and lays new roots in the surrounding soil. Smaller trees and shrubs establish faster and use less water in the process. Trees typically take one year per inch of caliper to establish. Caliper is the measure of the trunk's diameter 6 inches above the soil line. That is to say, a 1" caliper tree will take one year to reach establishment, while a 2.5" caliper will take 2.5 years or more. This means that a #5 pot tree will catch up, and possibly eclipse the growth of a #15 pot tree since the #5 pot tree will establish much faster than the #15 pot tree will. Also, it takes much less water to soak a #5-sized root ball compared to a #15 or larger pot size. Multiply that by the number of times you need to water your plant until it establishes, and the water savings from planting small becomes apparent–especially when you consider the establishment period is much longer for larger plants. At Rick's, we believe that water-wise landscaping practices should be the norm.
Finally, by keeping smaller pot sizes we can carry more varieties of plants. Our footprint at Rick's nursery is modest compared to other nurseries. Keeping pot sizes small means we can fit more plants in the same space, which equates to more awesome varieties of trees and shrubs for you to shop. In this nursery, we think variety is the spice of life, and we like our plant selections to be as spicy as possible!
In the end, the only argument in favor of planting large specimens is our need for instant gratification. The impact a large specimen plant can make on a new landscape is undeniable; however, we hope that this blog post inspires you to consider a smaller pot size for your next landscape plant purchase. Happy planting!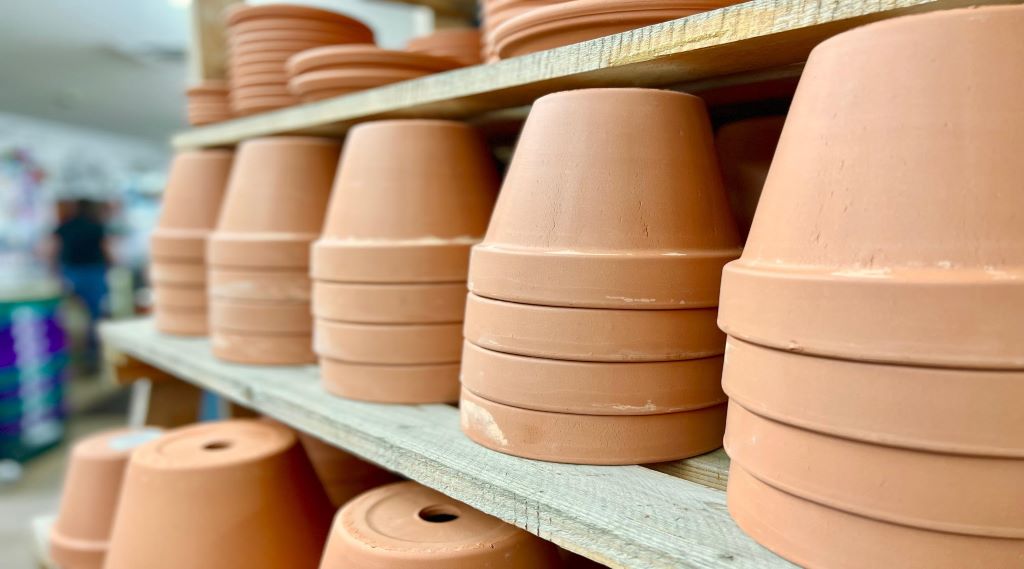 Native, Xeric & Edible Plants: The Three Pillars of Plants in our Nursery
Native, Xeric and Edible Plants: The Three Pillars of Plants in our Nursery
Hi there, this is Billy, the nursery manager here at Rick's Garden Center. We have been very busy preparing to receive this spring's plant material, and I wanted to take a moment to share our philosophies in plant choice. This is going to be an exciting year for us at the nursery; we've been working hard to acquire the toughest, most beautiful, and most unique plants for your garden. You can expect to see more varieties and a wider selection than ever before.
There are three main pillars holding up our plant palette in the nursery. We are highly interested in plants that are either native, xeric, or edible. I'd like to take a moment to explain these three categories, why they're important, and how they can serve your landscape.
Native Plants
Native plants are most commonly described as a plant that existed in the geographical location prior to European colonization. This may seem pretty cut and dry, but the truth is there is a lot of gray area. There are an incredible amount of eco-regions throughout Colorado, many overlapping, and each with its own set of native plants. It is often debated whether or not cultivars–plants that are cultivated varieties, chosen and grown by people specifically for certain traits–should count as natives at all. Despite these hangups, at Rick's nursery we believe that native plants can and should be an integral part of every Colorado landscape. Native plants are accustomed to our harsh climate and poor soils in ways that many "exotic" species are not. Native plants also benefit the local ecology in many ways that exotics don't; since they co-evolved with the local animal population, you can be sure that your plants are serving not only your landscaping interests, but also the wilder Colorado denizens. Some of my favorite native plants are Rabbitbrush (Ericameria nauseosa), Fernbush (Chamaebatiaria millefolium), and Big Bluestem grass (Andropogon gerardii).
Xeric Plants
The word xeric, as in xeriscaping, is derived from the latin word meaning "dry." These plants, while not necessarily native, are chosen to be as low-maintenance and drought tolerant as possible. Many of them love our nutrient poor, well-draining soils. They can put up with heat exceptionally well, making them good for those tough-to-grow spots in your yard. One common misconception is that "xeriscaping" means removing all the plants from your landscape and filling it with gravel–this method is derided as "zeroscaping" in the landscaping industry. Instead, a wide selection of plants coming together with different colors, textures, and shapes can create a lush, inviting space capable of expressing any number of landscaping styles, from English cottage garden to desert oasis. Some stand-out xeric plants are Dark Knight False Spirea (Caryopteris x clandonensis), Three Leaf Sumac (Rhus trilobata), and Lamb's Ear (Stachys byzantina).
Edible Plants
Edible plants need the least introduction, and are highly rewarding to grow. There are many types of edible plants that thrive in Colorado, including fruit trees, berry shrubs, and even a few perennial vegetables. Our nursery will carry many varieties of apples, peaches, plums, and cherries this Spring. As for shrubs, my personal favorite Serviceberry (Amelanchier) is a must; we also have many varieties of Raspberries (Rubus idaeus) that are excellent for growing in Colorado. We also have Currants (Ribes), Elderberries (Sambucus) and Grapes available, as well as some other less-known varieties like Seaberries (Hippophae rhamnoides) and Goji Berries (Lycium barbarum). Rhubarb and Asparagus are staple perennial vegetables, and exceptionally easy to grow. There is an edible plant for every space of your landscape.
And Others!
Of course, there are many plants that fit outside these categories that you'll find at Rick's nursery. Even though we're dedicated to native, xeric, and edible plants, we'll still have your old time favorites like Roses, Hydrangeas, and Hostas.
Thank you for reading! We hope to see you when our nursery reopens on April 15th. Happy planting!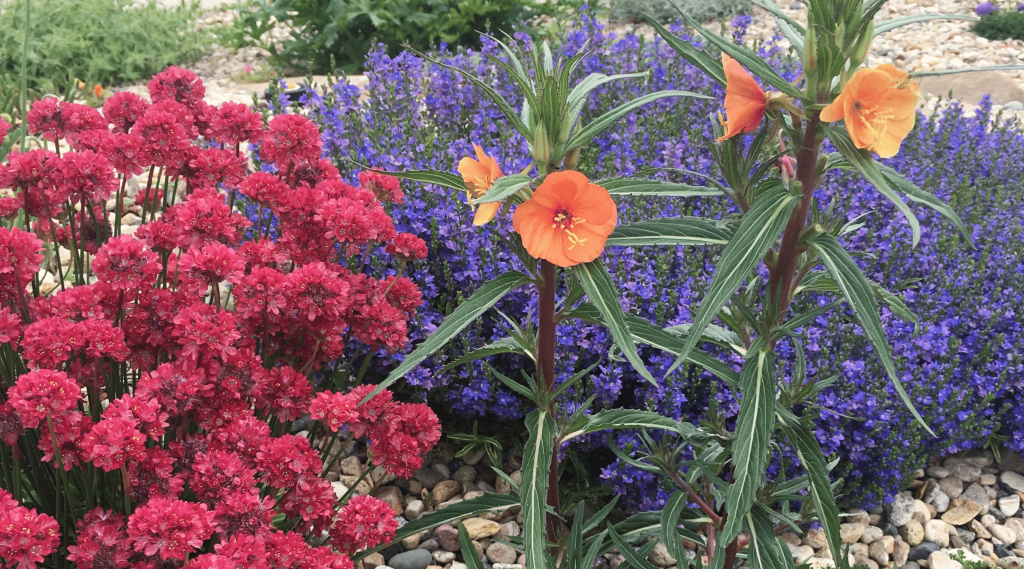 Understanding Garden Fertilizers
The Basics
What is Fertilizer?
Fertilizer is best described as plant food. It provides a plant with all the necessary micro and macro-nutrients it needs to grow. Like us, a plant without food will be able to survive for a while, but it will eventually require sustenance to thrive. It should be noted that compost and soil are different from fertilizers and your plants will not get enough nutrients from soil and compost alone.
Do I even need fertilizer?
The answer – if you live and grow in Colorado – is a resounding "Yes!" The soil in Colorado is naturally very nutrient-poor, and these nutrients are essential for healthy, vibrant gardens. Even if you are planting in a raised bed or container garden, fertilizer is necessary for successful gardening.
When should I fertilize?
Fertilizing should be done on a consistent basis while a plant is out of dormancy (whenever it is actively growing). Depending on the type of fertilizer you choose, you can feed your plants anywhere between every watering or two to three times throughout the growing season. It is very important to read and follow the directions and dosages on your fertilizer carefully.
Understanding Your Options
What are the numbers?
Every fertilizer is required to display three numbers. These numbers are called the NPK – (N) for nitrogen, (P) for phosphorus, and (K) for potassium. These numbers represent the guaranteed amount of each macronutrient present in the fertilizer. For example, a fertilizer labelled "4-6-2" has 4% nitrogen, 6% phosphorus, and 2% potassium.
What do these nutrients do?
Luckily, there is an easy way to remember the purpose each of these macronutrients serve: Up – Down – All-around.
Up – Nitrogen will encourage lush, leafy growth above ground
Down – Phosphorus helps with strong root establishment and blooms
All-Around – Potassium supports the plant's overall health and resistance to pests and disease.
Organic or synthetic?
There are pros and cons to both organic and synthetic products. Understanding them can help you decide what is best for your garden and gardening habits. Both organic and synthetic fertilizers will provide your plants with the same types of nutrients, and will not make a difference in the chemical make-up of the finished product.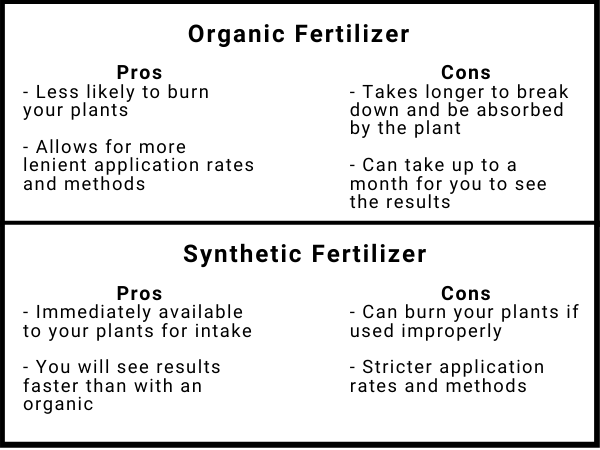 Making the Decision
What is the right choice for my garden?
First, you must ask yourself what you want out of your garden – are you hoping for vibrant colors and large blooms from your annuals and perennials? Lush, dark green coverage from your foliage? Enough home-grown veggies to fill the fridge and give out to the neighbors? Once you decide your goal, picking a fertilizer is easy.
For foliage and leafy veggies, choose a fertilizer with a high nitrogen number (the first number of your NPK). Nitrogen encourages a plant to produce a lot of leaves. This will help give your annual and perennial beds a full, healthy look and will allow your lettuce, kale, and herbs to produce the most leaves possible.
For flowers, flowering vegetables, and root vegetables, you should ensure a high amount of phosphorus (the second number in your NPK). This will help the plant establish a healthy, extensive root system and will encourage the biggest, brightest, and most blooms possible.
*For tomatoes, you want a high phosphorus number to encourage bloom count, but you also want to ensure your tomatoes get enough calcium. Providing your tomatoes with extra calcium during planting and throughout the growing season will protect them from blossom-end rot (a disorder caused by a calcium deficiency in the plant).
*Please note, adding eggshells to your soil will not aid in avoiding blossom-end rot as the calcium in eggshells takes upwards of six years to break down and become "digestible" to the plant. Many fertilizers labelled specifically for tomatoes will have added calcium that is immediately available to your plants.
Caring for Evergreen Wreaths & Garland
Use these three tricks to keeping evergreen wreaths and garlands looking fresh.
Fully hydrate the greenery prior to displaying it
Water is primarily absorbed through the cut ends of the branches. It has likely been a few days since your greenery had a good drink of water, so fully hydrate your wreath or garland for a few hours or even overnight before you display it. This can be accomplished by putting an inch or two of water in a bathtub (or other container) and laying the greenery flat in it. If available, laying the wreath in snow overnight will work just as well.
Prevent moisture loss by choosing an ideal location
Fresh cut greenery does best in cool, shady locations. Outside is ideal! Whether displayed outside or inside, exposure to direct sun will shorten the lifespan. If you choose to display your wreath or garland indoors, choose a spot away from sources of heat (fireplaces, heaters, heat vents, etc.) as these will quickly dry out the greenery.
Keep your greenery hydrated
Mist the back of your greenery with water daily in our dry Colorado climate. This will help the cut ends of the greenery to absorb moisture. Greenery displayed indoors will benefit from a nearby humidifier. Anti-transpirant sprays such as Bonide c or Wilt-Pruf® can also be applied to greenery to reduce transpiration of moisture.
The lifespan of your greenery will be dictated by how much moisture it loses and how much it is able to absorb. The more hydrated your greenery is, the fresher it will look and the longer it will last.
Bonide Wilt Stop®: https://www.ricksgarden.com/product/bonide-wilt-stop-rtu-40fl-oz/
Wilt-Pruf®: https://www.ricksgarden.com/product/15035/
Caring for a Real Christmas Tree
Fresh Christmas trees require a little more care than fake ones, but their beauty and lowered environmental impact are worth it!
Choosing the Best Spot
Just as with cut flowers in a vase, the trick to keeping real trees looking good is to keep them from drying out. Trees should be kept away from major sources of heat (fireplaces, heaters, heat vents, direct sunlight) as these will dry out your tree faster. Cooler room temperatures will also help to slow down moisture loss.
Measuring the Spot
Avoid a Clark Griswold moment – know the size of your space and be sure to choose a tree that will fit. When viewing trees outside against a big open space, they often seem smaller. Some trees are narrow, while others can be quite wide, so consider both height and width when measuring.
Choosing the Best Tree Stand
Think of your tree stand as a vase for flowers. It needs to hold the tree upright and hold ample amounts of water. Here are a few factors to consider:
Size – Trees can vary in size from 3' tall to over 12' tall, so choose a tree stand that is appropriate for the size of tree you intend to put in it. Shaving off the sides of the trunk to fit in a stand that is too small will decrease the tree's ability to take up water.
Stability – Taller trees need more stability and thus stronger legs that extend out further.
Water Capacity – Be sure the stand can hold enough water, at least 1 quart of water for every inch of trunk diameter. The water will need to be checked daily (twice daily the first few days) so choose a stand that is accessible.
Pro Tip: Slip a biodegradable plastic tree bag over the trunk before attaching the tree stand. Spread the bag out under the tree skirt. When the holidays are done, you can pull the bag up over the tree and easily carry it outside without scattering needles throughout the house.
Planning for Decorations
Consider your style before choosing a tree. Some varieties of trees are dense and bushy, so only the outer tips of the branches can be decorated. Other varieties have a more open form, allowing the inner branches to be decorated as well. If you plan to put heavy ornaments on your tree, be sure to choose a tree variety known for having strong branches. Lights that produce heat can also dry out a tree faster, so opt for cooler lights whenever possible.
Not sure which variety is best for you? Check out our blog post on choosing a tree variety.
Recutting the Trunk
To help your tree take up water, all trees should be given a fresh cut (½" removed from the trunk)  and then put in water as quickly as possible (the quicker the better, but some species can go as long as 6 to 8 hours and still take up water). Once the tree is given a fresh cut, it is important to not bruise the cut or get the cut dirty as this will plug the cells and prevent the uptake of water.
Here at Rick's we will give each tree a fresh cut before the tree leaves the lot. We can even put your tree stand on your tree for you so that when you get home, all you need to do is add water!
If you will not be able to set up your tree right away, store it in a cool location out of the wind in a bucket that is kept full of water.
Caring for Your Tree
Trees can take up a surprising amount of water – sometimes more than a gallon a day in the first few days. It is important to keep filling the tree stand with water. If the tree runs out of water, the cut will dry out, resin will block the pores, and the tree will lose the ability to take up water. Check the water twice a day the first week, and then daily after that.
Safety
Choose lights that are cool to the touch (modern LED lighting is an excellent choice). Inspect lights prior to putting them on the tree and replace them if they are worn out. Check the label on your set of lights to find out how many strands can be connected and do not overload electrical circuits. Keep the tree away from heat sources including candles and fireplaces. Turn off the Christmas tree lights every night before bed. When the tree dries out, it is time to dispose of it.
Tree Disposal
Christmas trees can be recycled at facilities that process them into mulch. More information on the mulching program in Colorado Springs can be found online at TreeCycleCOS.org
Related Products
Pursell Tree Preservative – Liquid: https://www.ricksgarden.com/product/pursell-christmas-tree-preservative-8oz/
Pursell Tree Preservative – Granular: https://www.ricksgarden.com/product/pursell-christmas-tree-preservative-granular-0-5oz/
Tree Disposal Bag: https://www.ricksgarden.com/product/pursell-christmas-tree-disposal-bag/
Bonide Wilt Stop®: https://www.ricksgarden.com/product/bonide-wilt-stop-rtu-40fl-oz/
Wilt-Pruf®: https://www.ricksgarden.com/product/15035/
Resources
https://www.extension.purdue.edu/extmedia/fnr/fnr-423-w.pdf
https://realchristmastrees.org/all-about-trees/care-tips/
https://www.christmastreeassociation.org/fire-safety-tips-for-your-christmas-tree/