Small Pot Sizes, Mighty Plants
Here in the nursery at Rick's Garden Center, we tend towards smaller pot sizes. In the nursery business, pots are sized according (loosely) to their volume in gallons. A #5 pot, therefore, holds roughly 5 gallons of soil. It should be noted that these sizes are not standardized; a #5 pot can be anywhere from 3.4 to 5.4 gallons. Our shrubs are typically in the #2 to #5 pot size, and our trees tend to be #5 to #15. These sizes are smaller than what some other nurseries offer, especially in trees. There are a handful of good reasons for this, and I'd like to explore those with you now.
First is affordability. Smaller-sized pots hold smaller plants, and smaller plants cost less. The less I spend on any one plant, the more plants I can buy. It's important to us at Rick's to get plants into the hands of as many people as possible, and keeping our nursery stock small in size helps us accomplish this. Smaller pots even pay off in sweat equity; a smaller rootball means a smaller hole to dig and much less weight to move around. Planting small can save both your wallet and your back.
Another reason has everything to do with establishment. Establishment is the magic moment when your plant reaches outside its root ball and lays new roots in the surrounding soil. Smaller trees and shrubs establish faster and use less water in the process. Trees typically take one year per inch of caliper to establish. Caliper is the measure of the trunk's diameter 6 inches above the soil line. That is to say, a 1" caliper tree will take one year to reach establishment, while a 2.5" caliper will take 2.5 years or more. This means that a #5 pot tree will catch up, and possibly eclipse the growth of a #15 pot tree since the #5 pot tree will establish much faster than the #15 pot tree will. Also, it takes much less water to soak a #5-sized root ball compared to a #15 or larger pot size. Multiply that by the number of times you need to water your plant until it establishes, and the water savings from planting small becomes apparent–especially when you consider the establishment period is much longer for larger plants. At Rick's, we believe that water-wise landscaping practices should be the norm.
Finally, by keeping smaller pot sizes we can carry more varieties of plants. Our footprint at Rick's nursery is modest compared to other nurseries. Keeping pot sizes small means we can fit more plants in the same space, which equates to more awesome varieties of trees and shrubs for you to shop. In this nursery, we think variety is the spice of life, and we like our plant selections to be as spicy as possible!
In the end, the only argument in favor of planting large specimens is our need for instant gratification. The impact a large specimen plant can make on a new landscape is undeniable; however, we hope that this blog post inspires you to consider a smaller pot size for your next landscape plant purchase. Happy planting!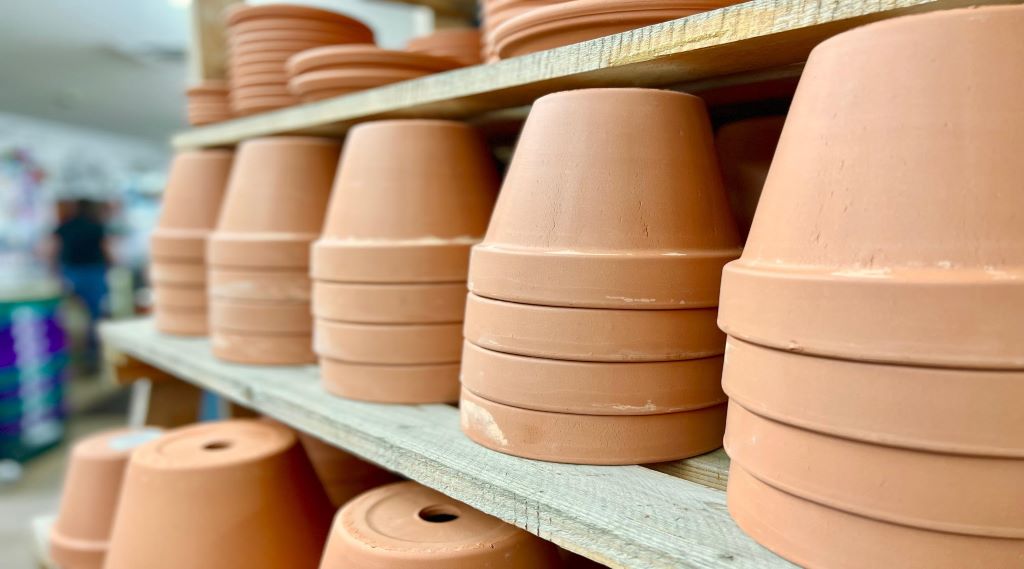 Light
Most fern varieties naturally grow on the floor of thick, forested areas so they prefer a bright but indirect light. Given the delicate nature of their leaves, they can easily burn if put in direct sunlight.
Temperature
Ferns should be kept in a temperate environment – they prefer daytime temps between 65-75 degrees, and can have nighttime temps no more than 10 degrees lower (55-65). If the temperature is often above 75 degrees, they will be okay but may require more frequent watering. If temperatures fall below 50 degrees, they risk being cold-shocked which is rarely survivable.
Humidity
This is the trickiest aspect of keeping a fern in Colorado. They require a humid environment in order to keep their foliage from crisping up and falling off. A fern should be kept in humidity levels that are consistently above 60%. There are a few ways to accomplish this:
Keep your fern in a closed terrarium – This is the easiest way to ensure your fern has optimal temperature and humidity levels.
Give your fern a humidity tray to sit on – By filling a saucer with washed gravel and a very small amount of water and then setting your potted fern on top, you can create a temporarily humid environment immediately around your fern. When using this method, ensure that the soil is not touching the water through your pot's drainage hole. The water will have to be refilled about every other day.
Give your fern a humidifier – A humidifier is a great choice for people who have many plants that prefer a more humid environment than Colorado has to offer. There is a great variety to choose from – small, single-plant serving models, to ones that can raise the humidity of a large room.
Watering
Ferns prefer to stay in moist soil. It is important to maintain a good medium between letting the soil dry out and keeping it wet. The best way to tell if your fern needs to be watered is by sticking your finger into the top layer – if the top 1 1/2 inches are dry, then you should water. As with most houseplants, it is much safer to err on the side of underwatering than overwatering.
Fertilizer
Ferns are very light feeders, so they do not need to be fertilized often. For the best results, feed your fern a balanced houseplant fertilizer once every month starting mid-spring through the summer. It is best to not feed your fern during the fall and winter, as they are most sensitive to over-feeding at this time.