Rick's 2023 Winter Reading List
By Katherine Placzek
Winter is the perfect time to curl up with a book. Our staff has accumulated our favorite plant reads so you can get a stack of books from the library or your favorite local bookstore. All you need is a blanket and to start the tea kettle!
---
Plan a Colorful Garden for our Rugged Terrain:
Pretty Tough Plants:135 Resilient, Water-Smart Choices for a Beautiful Garden
by the Experts at Plant Select
Plant Select, the country's leading brand of plants designed to thrive in high plains and intermountain regions, wrote the book on hardy high desert gardens- literally! This book will help you make a list of plants to seek out when it warms up. With amazing photos, each plant is described with specifics that are important for garden design, such as growing zones and light requirements. The selected plants include perennials and annuals, groundcovers, grasses, shrubs, and trees. Drool over each page, and complete your winter garden dreaming with this essential book!
---
Relish Edible Garden Designs:
Groundbreaking Food Gardens: 73 Plans That Will Change the Way You Grow Your Garden
by Niki Jabbour
Based on actual gardens designed by celebrated gardeners and renowned landscapers, each of these 73 gardens offers unique solutions for your own garden. The garden layouts are illustrated, and list the edible plants included. You will find a pepper garden with over 24 pepper varieties, a garden that is in harmony with a chicken coop as its central feature, a cocktail garden, a balcony garden, and so many more niche ideas. Regardless of your space or experience, you will find something that will be new and exciting to you! Explore new species of eggplants, climbing tomatoes, edible flowers, and a plethora of ways to showcase the bounty in your vegetable garden.
---
Live an Insect's Perspective:
The Bees
by Laline Paull
Throughout this novel, you will fall in love with the main character, Flora-717, a female bee in a honeybee colony. While scientific in many ways, it is a suspenseful and fantastical story in its own right. Experience predatory insects, pesticides, birds, weather, seasonal changes, human interactions, and the hive mentality from the perspective of a worker bee. The Bees will change how you view the life of a honeybee!
---
Drool Over Houseplants:
Plantopedia: The Definitive Guide to Houseplants
by Lauren Camilleri & Sophia Kaplan
This is a wonderful introductory guide for the houseplant enthusiast! 130 plants including foliage plants, succulents, and cacti are profiled. While as educational as a textbook, this book also doubles as a coffee table book due to its incredible images! You will be able to keep your houseplants happy and vibrant after reading this informative book. Plantopedia is a great gift for any houseplant lover!
---
For the Fledgling Plantswoman:
The Earth in Her Hands: 75 Extraordinary Women Working in the World of Plants
by Jennifer Jewell
If you are inspired by seeing other individuals who are molding the future of the plant world, check out this beautiful book. 75 women are interviewed on their backstory of how they debuted in the plant world. Each individual is given a multi-page spread, and vivid pictures are included. You will meet nursery owners, photographers, vegetable farmers, flower farmers, activists, researchers, florists, plant breeders, seed collectors, and a myriad of other professionals.
---
A Mystery that Involves a Plant Poisoning:
A Botanist's Guide to Parties and Poisons
by Kate Khavari
This lighthearted mystery introduces you to the world of Saffron Everleigh, who has just become a research assistant at the University College of London during the early 1920s. Plant lovers will enjoy the scenes located in various gardens, arboretums, and greenhouses. After a poisoning occurs, our fearless heroine is caught in the middle since her mentor is the main suspect. She undertakes the task of clearing her mentor's name with her dashing sidekick, Alexander Ashton. This is the first book of a series, so feel free to get emotionally attached to the characters.
---
Calling All Beginning Vegetable Gardeners: 
The Kitchen Garden: A Month by Month Guide to Growing Your Own Fruits and Vegetables
by Alan Buckingham
This book is a great foundation for beginner and intermediate vegetable gardeners. The author provides you with detailed crop planners, indicating when to sow and how to care for more than 60 veggies, herbs, and fruits. Every month is broken into tasks. Discussion on growing zones occurs, so you can acclimate to the monthly tasks based on your region. Basic composting, Hugelkultur, and crop rotation processes are also covered. The author shares tips on maximizing your garden plot if sloped or uneven terrain is a concern, which is common in this area. Buckingham especially trains you in gardener's foresight strategies. Get your feet wet and your hands dirty with this book!
---
A Gardener's Contemplation:
Second Nature: A Gardener's Education
by Michael Pollan
This was one of Michael Pollan's first published books. If you know him as a food writer or culture shifter, reacquaint yourself with him as a gardener. His amusing stories have a retro feel due to their publishing year but are still relevant to how societal norms influence our lawns, yards, and gardens. He talks about the dichotomy between the wilderness and a garden. The book makes you consider the role that your yard plays in this conversation.
---
How to Start a Flower Farm:
Floret Farm's Cut Flower Garden: Grow, Harvest and Arrange Stunning Seasonal Blooms
by Erin Benzakein with Julie Chai
In Erin Benzakein's debut book, you will be absorbed by the gorgeous photographs of colorful flowers, and her thoughtful design. Benzakein's generous spirit shines through, as she guides you from a beginner's understanding into the intricacies of large-scale cut flower farming. While reading the book you will learn about helpful tools of the trade, planting/care staples, the harvesting processes, and the art of flower arrangements. Soon enough, you will be dreaming of dahlias, zinnias, poppies, daffodils, anemones, ranunculus, and more!
---
A Throwback:
Silent Spring
by Rachel Carson
Initially released in 1962, this book helped the public understand the impact of pesticides. Rachel Carson, an American biologist, writer, and conservationist, researched the impacts of post-World War II pesticides, including DDT on songbird populations. Through the publication of this book, her audience was able to push for a nationwide ban on DDT. If you are able to pick up a physical copy, the illustrations are exquisite! The images were drawn by Lois and Louis Darling. Naturalist Sir David Attenborough expressed Silent Spring as a book that has changed the scientific world- a classic read for any gardener! 
---
A Reason to Plant Natives:
Nature's Best Hope: A New Approach to Conservation that Starts in Your Yard
by Douglas W. Tallamy
Written by Dr. Douglas Tallamy, a professor in the Department of Entomology and Wildlife Ecology at the University of Delaware, this book will convince you to plant native plants in your yard. Tallamy explains why various insect larvae are keystone species, especially for bird populations. The book details how the landscape is changed when invasive or non-native plants are incorporated, and how natural food sources for wildlife are erased. This can be changed easily by planting native plants that provide dense nutrition as well as protective habitat corridors within the urban setting. Native plant guides and resources are provided throughout the book. Overall, a convincing and empowering read.
---
Learn to Garden on a Shoestring:
The Dirt Cheap Green Thumb: 400 Thrifty Tips for Saving Money, Time, and Resources as You Garden
by Rhonda Massingham Hart
This little book is chock full of clever ways to garden! The author is frank on how to save money while building a beautiful and productive garden. Enjoy humor and advice on the best ways to stretch your dollar, from starting seeds to preserving produce. The author explores all gardening, including edible and ornamental. Even seasoned gardeners will find resourceful tips in this helpful guidebook.
---
Summer 2024 tomato Variety List
In our newsletter we mentioned Rick's would soon release our 2024 tomato list and we are excited to reveal it to you now! Inspired by Good Earth, we want to grow strong, and flavorful tomatoes of numerous varieties for next summer. Tomato seeds and plugs will be organic, while any shipped in from growers will be grown sustainably. The list below is what we will feature this summer if all goes according to plan!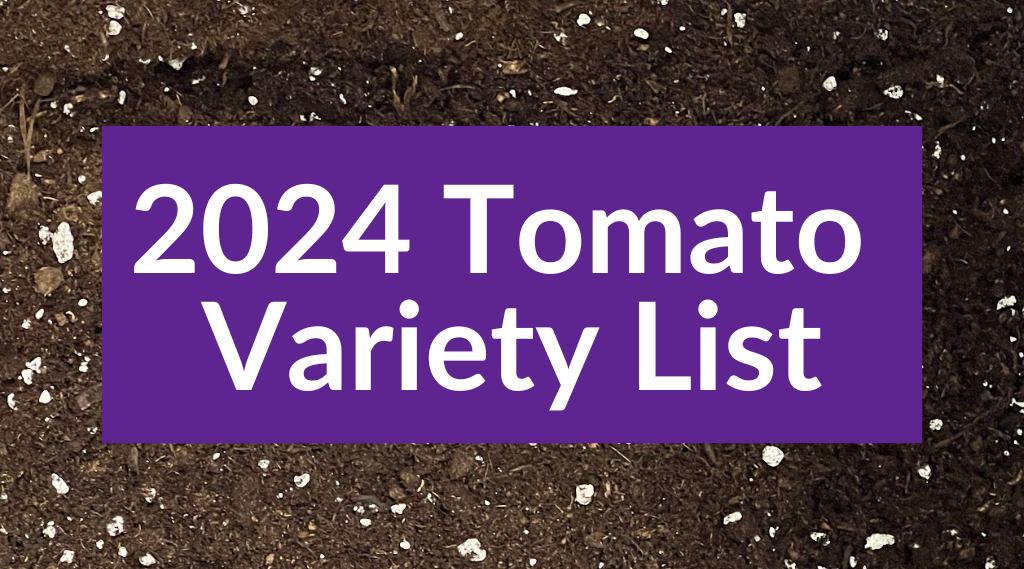 Too Deep in Love: Two Common Killers of Freshly Planted Trees
Trees are the cornerstones of our landscapes. No other kind of plant impacts the local ecosystem as broadly and effectively as trees; they create shady, cool microclimates, provide erosion control with their expansive roots, and supply habitat and food for many creatures. Planting trees is not difficult, but with their slow growth and considerable price, it pays to get it right the first time. Here are two common problems we see with freshly planted trees at Rick's Nursery.
The most common and fatal error in planting trees is burying the root ball too deep. It only takes a few inches of soil on top of the root ball to smother it. When you plant your tree, take it out of the pot, then lightly brush off the loose soil on top-assume that the tree was never planted at the correct depth in the pot by the nursery that grew it. Then, after you finish planting the tree, you should still be able to see the top of the potting soil. In areas of poor soil drainage, it may be appropriate to leave the "shoulders" of the root ball as much as 2 inches above grade. Top with mulch to prevent the surface roots from drying out, but be careful not to contact the trunk. It will look wildly incorrect when created for the first time, but it is essential to the plant's health. When you plant too deep, you starve the roots of oxygen, and the tree is prone to dying within the first 2-7 years of planting. Once you start observing trees, you may even begin to notice mature ones that are planted too deeply; trees should never look like a telephone pole sticking out of the ground, there should always be a distinct root flare. If you have already planted your tree too deep, you can carefully excavate by hand around the root flare to expose it. You can even mitigate too-deep planting in mature trees, though care should be taken not to damage roots. Just carefully remove the soil until you find the root flare, then mulch.
Our soil in most parts of Colorado is notoriously poor. Whether you have sand, clay, or just decomposed granite on bedrock, amending your soil with organic matter can solve several soil problems. We often forget, however, that in life and gardening, moderation is key. When you amend the backfill of your planting hole, you should use a maximum ratio of 1 part compost to 4 parts native soil. When you amend by more than 20% organic matter, you risk "containerising the hole." This happens when you over-prepare the backfill of your planting hole; the roots of your tree are content with the fluffy, rich soil, and never establish outside the new hole. This creates circling roots and other problems associated with container trees, thus "containerising the hole." Trees whose soil is over-amended are more prone to overwatering because the soil holds on to excess moisture. Trees may also begin to sink and list to one side as the extra compost decomposes and shrinks in volume, especially when the compost is dug under the root ball. Thus, the bottom of your planting hole should always be firm, unamended soil. Fresh compost should never contact the roots directly and should be mixed thoroughly into the backfill soil. Depending on what kind of tree, and the soil condition, it might be wisest to skip amendment altogether, and just let the wood mulch on top do the soil work. Generally, though, just a dab of compost will do the trick. Ultimately, we gardeners see soil amendment as an act of caring; just make sure not to love your tree to death.
Nothing makes us happier at Rick's Garden Center than seeing your nursery plants thrive. For more information on planting, see our Tree and Shrub Planting Guide, available on our website. Happy planting!
Tree and Shrub Planting Guide
Tree & Shrub Planting Guide
Call before you dig! Dial 811
1. Measure the depth of the root ball. Your planting hole should be approximately one inch less in depth than the root ball itself (Example: 14" root ball should be planted in a 13" deep hole). Lay your rake or shovel handle across the hole, the root ball should be just slightly higher than the handle. The tree should sit on undisturbed, firm, soil. You need a firm foundation so the tree doesn't settle after it is planted.
2. Dig a large saucer shaped hole approximately 3 times the diameter of the root ball (Example: the root ball is 16" across, the diameter of the hole should be 48"). The saucer shaped sides of the planting hole help the new root growth to move outward and upward, away from the trunk or crown. This helps prevent the new roots from girdling the trunk and maintains proper oxygen and nutrient flow to the root system.
3. Gently remove container, for large trees or shrubs, it may be easier to cut the container off. DO NOT pick up the tree or shrub by its trunk and attempt to "shake" off the container.
4. Check the root ball for roots that are growing in a circular pattern. If the roots are "Pot Bound" it is recommended to shave off an inch to an inch and a half of the exterior of the root ball. Use a hand saw to slice off strips from the exterior of the root ball around the perimeter. Prune any remaining circling roots. This has been found to be more effective than vertical slices through the root ball and prevents root girdling of the tree. Do this in several sections around the root ball. This will stimulate the roots to begin growing out of their circulating pattern.
5. Dust the root ball and cut root ends with a mycorrhizae inoculant, such as Mykes, Soil Moist or other product, so that there is good contact with the root system per the product directions. If possible, dampen the root ball to help adhere the dust to the root ball.
6. Place the tree in the hole and backfill with the original soil, remove any large dirt clumps or rocks. Water in the soil to settle it down, do not tamp down. Continue backfilling up to the top of the root ball. If you have any excess soil, use it to build a raised berm around the outside of the hole. This will aid in proper watering. NOTE: If you have heavy clay soil, consult our Nursery Manager. It is NOT recommended to try and adapt trees to soil they cannot tolerate.
7. Mix the Ferti-lome Root Stimulator or Bonide Root & Grow according to the directions on the label. Water the tree or shrub thoroughly with the mixture throughout the first two growing seasons.
8. Add mulch to the planting area, keeping the mulch 4-6 inches from the trunk of the tree or crown of the shrub. This will help retain moisture, moderate the soil temperature and prevent mower/trimmer damage, ensuring a good consistent growing area for your new plant. It looks great too!
9. Large, tall trees will require staking and guying. This will prevent any wind damage that could topple or shift your tree causing severe root damage. Tree straps should be loose to allow the tree to move a little in the wind. Remove tree straps after one year.
RECOMMENDED:
TREE WRAP We highly recommend using tree wrap on any smooth barked /and/ or dark colored tree trunks. Winter sun can cause frost cracking in young trees, especially trees with southwest exposures. Wrapping should be applied around Thanksgiving and removed by April Fools Day or Easter.
TRUNK BARK PROTECTORS The only trees that may not need Deer Guards are those planted behind a 6' fence that the deer can't see through; or have thick rough bark! It is never worth risking the damage that deer WILL do! This can also protect against mechanical damage from mowers.
WATERING:
Newly planted trees will need 5-10 gallons of water a week for the first two years until they are established. It is better to water more deeply and infrequently than lightly and frequently. If the soil is still wet a couple of inches down around the root ball, avoid watering.
Don't forget to Winter Water!! Trees still lose moisture during the dormant period. If there has been no measurable precipitation for over a week and temperatures are above freezing, water lightly once a week, 2-3 gallons. This goes a long way to preventing winter dye-back and root damage!