Rick's Garden Center Bare Root Fruit Trees 2023
Great news for backyard orchardists- our bare root fruit trees just got confirmed for Spring 2023. This will be our second year offering bare root trees in the nursery. For those not in the know, bare root trees are sold, as the name suggests, without any soil on the roots. There are numerous benefits of planting bare root, but time is of the essence as far as purchasing, handling, and planting are concerned. If you missed our blog post from last year, check [here] for a great rundown on what bare root trees are, how to handle and plant them, and a lot of other great information. Here's a brief rundown of some important information you can find there:
Why Bare Root?
Improved tree health- no circling or girdling roots, easier transplant
Reduced weight- less gas used, less expensive shipping, easier handling/planting
Cost effective- roughly ½ the price of similar-sized container trees. All varieties will be $48.99, tax free (that's right- you pay with a $50 bill, we'll give you back a dollar and a penny in change.)
When are they available?
This depends largely on weather- trees should be arriving in early April. All bare root trees are sold on a first come, first served basis. Sales end when trees break dormancy–usually in late April–which necessitates their immediate planting. If you'd like to be notified when they arrive, please email info@ricksgarden or call the store at (719) 632-8491.
We've made some tweaks to our available varieties, and I'd like to take the time and share them with you. We have some varieties I'm confident you won't find anywhere else.
Ambrosia Apple
This variety arose from a chance seedling discovered in British Columbia. This is one of the newest varieties available at Rick's nursery, and has a sweet, juicy, aromatic fruit. This apple boasts beautiful color, long storage time, and once cut is slow to brown due to its low acidity.
Auvil Early Fuji Apple
This sport has all of the things you love about Fuji apples, and is ready for harvest six weeks earlier, making this apple a great option to spread out your harvest time. Discovered by Grady Auvil, a renowned Washington orchardist. Complex in flavor with a dense, crisp flesh.
Gale Gala Apple
This exclusive, improved Gala strain is noted for its beautiful, deep red color. Available only through VanWell nursery, our distinguished wholesale grower. Similar in taste and texture to Royal Gala making it good for both fresh eating and preserving, and perfect for desserts.
Royal Red Honeycrisp Apple
Everyone's favorite apple now comes with better storage time and improved color. The perfectly snappy, crisp texture and sweet, slightly tart profile explain this apple's overwhelming popularity. A versatile, hardy, and in-demand apple.
Red King Red Flesh Apple
New this year to Rick's nursery, this apple has the unique feature of dark red flesh- even the juice is pink! Brilliant red skin, beautiful pink flowers, and an irresistible crunch are other qualities of note. This tree is triploid, which means that its pollen is sterile and will not pollinate other apples. For those interested in only the most unique apples, this variety is sure to please.
Red McIntosh Apple
It's hard to think of a more classic apple than the McIntosh, whose popularity has been holding steady for more than 200 years. Perhaps also the poster child of the "all-purpose" apple, this variety has impeccable range as fresh, baked, preserves, cider, and many other applications. A supremely hardy, reliable producer.
Yellow Newtown Apple
The oldest heritage apple available through our bare root program, the Yellow Newtown (also called Newtown Pippin) originated in the late 17th century. Regarded as a winter apple due to its impeccable storage time, its flavor actually improves after harvest. As Thomas Jefferson said while visiting Paris, "they have no apples here to compare with our Newtown Pippin."
Benton Cherry
This sweet cherry does it all: it is self-fertile (does not require a pollinator), late-blooming (to avoid early Spring frosts), semi-freestone (easy to pit), and has a gorgeous carmine color. A reliable producer with large fruit, its taste is superbly sweet with just enough acidity to make it perfect for fresh eating and also baking and preserves.
Early Italian Plum
This self-fertile plum is rich in flavor and ripens sooner than regular Italian plums, a boon to those of us with a short growing season. Another versatile "all-purpose" variety that is good right off the tree as well as in the kitchen. Tree features smaller stature and fragrant blooms.
Thanks for reading! We hope to see you in the nursery this Spring. We open our doors mid-April, but we have staff on board all year long to aid you in your gardening quest. Happy planting!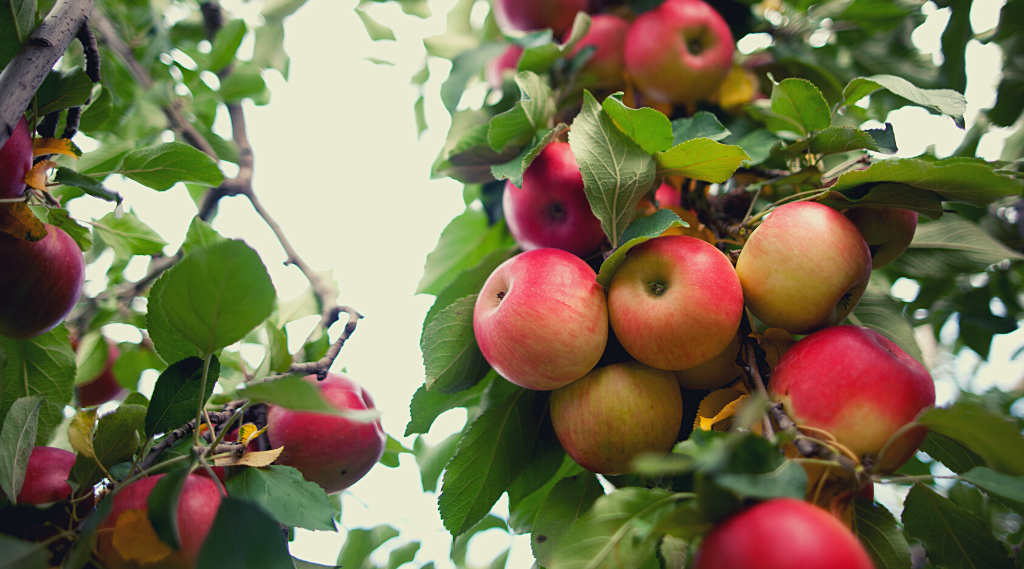 Too Deep in Love: Two Common Killers of Freshly Planted Trees
Trees are the cornerstones of our landscapes. No other kind of plant impacts the local ecosystem as broadly and effectively as trees; they create shady, cool microclimates, provide erosion control with their expansive roots, and supply habitat and food for many creatures. Planting trees is not difficult, but with their slow growth and considerable price, it pays to get it right the first time. Here are two common problems we see with freshly planted trees at Rick's Nursery.
The most common and fatal error in planting trees is burying the root ball too deep. It only takes a few inches of soil on top of the root ball to smother it. When you plant your tree, take it out of the pot, then lightly brush off the loose soil on top-assume that the tree was never planted at the correct depth in the pot by the nursery that grew it. Then, after you finish planting the tree, you should still be able to see the top of the potting soil. In areas of poor soil drainage, it may be appropriate to leave the "shoulders" of the root ball as much as 2 inches above grade. Top with mulch to prevent the surface roots from drying out, but be careful not to contact the trunk. It will look wildly incorrect when created for the first time, but it is essential to the plant's health. When you plant too deep, you starve the roots of oxygen, and the tree is prone to dying within the first 2-7 years of planting. Once you start observing trees, you may even begin to notice mature ones that are planted too deeply; trees should never look like a telephone pole sticking out of the ground, there should always be a distinct root flare. If you have already planted your tree too deep, you can carefully excavate by hand around the root flare to expose it. You can even mitigate too-deep planting in mature trees, though care should be taken not to damage roots. Just carefully remove the soil until you find the root flare, then mulch.
Our soil in most parts of Colorado is notoriously poor. Whether you have sand, clay, or just decomposed granite on bedrock, amending your soil with organic matter can solve several soil problems. We often forget, however, that in life and gardening, moderation is key. When you amend the backfill of your planting hole, you should use a maximum ratio of 1 part compost to 4 parts native soil. When you amend by more than 20% organic matter, you risk "containerising the hole." This happens when you over-prepare the backfill of your planting hole; the roots of your tree are content with the fluffy, rich soil, and never establish outside the new hole. This creates circling roots and other problems associated with container trees, thus "containerising the hole." Trees whose soil is over-amended are more prone to overwatering because the soil holds on to excess moisture. Trees may also begin to sink and list to one side as the extra compost decomposes and shrinks in volume, especially when the compost is dug under the root ball. Thus, the bottom of your planting hole should always be firm, unamended soil. Fresh compost should never contact the roots directly and should be mixed thoroughly into the backfill soil. Depending on what kind of tree, and the soil condition, it might be wisest to skip amendment altogether, and just let the wood mulch on top do the soil work. Generally, though, just a dab of compost will do the trick. Ultimately, we gardeners see soil amendment as an act of caring; just make sure not to love your tree to death.
Nothing makes us happier at Rick's Garden Center than seeing your nursery plants thrive. For more information on planting, see our Tree and Shrub Planting Guide, available on our website. Happy planting!